12-10-2019 | Original Paper | Uitgave 9/2020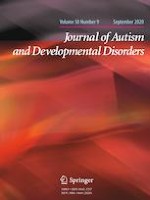 Early Detection, Diagnosis and Intervention Services for Young Children with Autism Spectrum Disorder in the European Union (ASDEU): Family and Professional Perspectives
Tijdschrift:
Auteurs:

Álvaro Bejarano-Martín, Ricardo Canal-Bedia, María Magán-Maganto, Clara Fernández-Álvarez, María Victoria Cilleros-Martín, María Cruz Sánchez-Gómez, Patricia García-Primo, Mary Rose-Sweeney, Andrew Boilson, Renata Linertová, Herbert Roeyers, Sara Van der Paelt, Diana Schendel, Christine Warberg, Susanne Cramer, Antonio Narzisi, Filippo Muratori, María Luisa Scattoni, Irma Moilanen, Anneli Yliherva, Evald Saemundsen, Sigríður Loa Jónsdóttir, Magdalena Efrim-Budisteanu, Aurora Arghir, Sorina Mihaela Papuc, Astrid Vicente, Celia Rasga, Bernadette Rogé, Quentin Guillon, Sophie Baduel, Johanna Xenia Kafka, Luise Poustka, Oswald D. Kothgassner, Rafal Kawa, Ewa Pisula, Tracey Sellers, Manuel Posada de la Paz
Belangrijke opmerkingen
Electronic supplementary material
Publisher's Note
Springer Nature remains neutral with regard to jurisdictional claims in published maps and institutional affiliations.
Abstract
Early services for ASD need to canvas the opinions of both parents and professionals. These opinions are seldom compared in the same research study. This study aims to ascertain the views of families and professionals on early detection, diagnosis and intervention services for young children with ASD. An online survey compiled and analysed data from 2032 respondents across 14 European countries (60.9% were parents; 39.1% professionals). Using an ordinal scale from 1 to 7, parents' opinions were more negative (mean = 4.6; SD 2.2) compared to those of professionals (mean = 4.9; SD 1.5) when reporting satisfaction with services. The results suggest services should take into account child's age, delays in accessing services, and active stakeholders' participation when looking to improve services.