01-10-2010 | Empirical Research | Uitgave 10/2010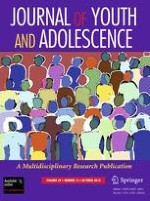 Early Adolescent Sexual Initiation and Physical/Psychological Symptoms: A Comparative Analysis of Five Nations
Tijdschrift:
Auteurs:

Aubrey Spriggs Madkour, Tilda Farhat, Carolyn Tucker Halpern, Emmanuelle Godeau, Saoirse Nic Gabhainn
Abstract
Although most people in developed countries experience sexual initiation during adolescence, little is known about inter-country variability in the psychosocial correlates of early initiation. Population-based samples of 15-year-olds (
n
= 6,111, 52% female) who participated in the Health Behaviors in School-Aged Children Study (Finland, Scotland, France and Poland, 1997/1998) or the National Longitudinal Study of Adolescent Health (United States, 1996) self-reported sexual intercourse experience and physical (headaches, trouble sleeping) or psychological (unhappiness, loneliness, sadness, moodiness) symptoms. Analyses were conducted stratified by gender. Sexual initiation prevalence and symptoms scores varied significantly across nations. In adjusted models, sexual initiation was not related to symptoms among boys in any nation, but significantly positively related to symptoms among girls in Poland and the US. Results support variability by gender and nation in the relationship between adolescents' sexual initiation and physical/psychological symptoms. Empirically investigating specific features of national contexts that generate these differences should be explored further.