01-10-2011 | Brief Report | Uitgave 5/2011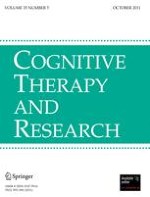 Dysphoria and the Immediate Interpretation of Ambiguity: Evidence for a Negative Interpretive Bias in Error Rates But Not Response Latencies
Tijdschrift:
Auteurs:

Christopher R. Sears, M. A. Suzie Bisson, Kate E. Nielsen
Abstract
Cognitive theories of depression (Beck, Journal of Cognitive Psychotherapy: An International Quarterly. 1:5–37,
1987
) predict that depressed individuals will have an increased tendency to interpret ambiguous information in a negative manner. Researchers have observed a negative interpretive bias in a variety of situations, but much of the evidence has come from studies that relied on participants' self-reports and other tasks that are highly susceptible to response biases. Studies that have used semantic priming tasks to covertly probe participants' immediate interpretations of ambiguity, and thereby avoid response biases, have not observed an interpretive bias (Lawson and MacLeod, Behaviour Research and Therapy. 37:463–474,
1999
; Bisson and Sears, Cognition and Emotion. 21:614–645,
2007
). The present study used a task better suited to measure interpretive biases in the immediate interpretation of ambiguity: the semantic relatedness decision task. Participants listened to self-referent ambiguous prime sentences (e.g.,
My boyfriend said that I am unlike his past girlfriends
) and responded to visually presented target words related to a negative (
jealous
), positive (
attractive
), or neutral (
relationship
) interpretation of the sentence. The task was to quickly indicate whether or not the target was related to the ambiguous prime (a
yes
or
no
response). The expectation was that dysphoric participants would respond more quickly to targets related to the negative interpretations of the primes because they would be more likely to impose negative interpretations on the ambiguity. This was not the case. On the other hand, the error data revealed that dysphoric participants made fewer errors to targets related to the negative interpretations of the primes (i.e., fewer "no" responses to negatively-related targets) and made more errors to targets related to the positive interpretations of the primes, a pattern consistent with a negative interpretive bias. These findings demonstrate that the semantic relatedness task is a promising tool for the study of interpretive biases in dysphoria and depression.