14-08-2018 | ORIGINAL PAPER | Uitgave 4/2019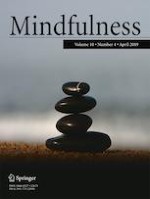 Does Thought Suppression Mediate the Association Between Mindfulness and Body Satisfaction?
Tijdschrift:
Auteurs:

Jessica Barrington, Josée L. Jarry
Abstract
Mindfulness is the tendency to pay attention, on purpose and in an open and non-judgmental way, to internal experiences such as thoughts, emotions, and sensations. Higher dispositional mindfulness is associated with higher body satisfaction, but the mechanism of this association remains unclear. In the present study, thought suppression was tested as a mediator of the association between mindfulness and body satisfaction in five models, each using one of the five mindfulness facets identified by Baer et al. (Assessment 13:27–45, 2006) as predictors. Five alternative models also were tested with thought suppression as the predictor and with the five mindfulness facets as mediators. Participants (
N
 = 234) completed online measures of mindfulness, thought suppression, and body satisfaction. Observing was neither directly nor indirectly associated with body satisfaction. Results suggest a bi-directional association between thought suppression and the facets describing and acting with awareness, in their association with body satisfaction. The association between non-judging and body satisfaction was not mediated, suggesting that this facet may apply not only to negative appearance thoughts but also to appearance as the object of these thoughts. Non-reactivity was associated with higher body satisfaction only through low thought suppression. In terms of the prevention and treatment of body dissatisfaction, our results suggest that training in describing and acting with awareness may naturally entrain low thought suppression and vice versa. Training in non-judgment may directly result in lowering negative appearance judgment, thus improving body satisfaction. However, training in non-reactivity to distressing appearance thoughts may require concurrent training in the management of these thoughts to ultimately improve body satisfaction.