10-04-2020 | Uitgave 9/2020 Open Access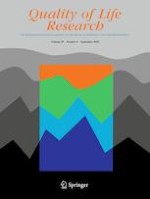 Does the EQ-5D-5L benefit from extension with a cognitive domain: Testing a multi-criteria psychometric strategy in trauma patients
Tijdschrift:
Auteurs:

A. J. L. M. Geraerds, Gouke J. Bonsel, Suzanne Polinder, M. J. M. Panneman, M. F. Janssen, Juanita A. Haagsma
Belangrijke opmerkingen
Publisher's Note
Springer Nature remains neutral with regard to jurisdictional claims in published maps and institutional affiliations.
Abstract
Purpose
This study investigated the psychometric yield of extension of the EQ-5D-5L with a cognitive domain (EQ-5D+C) in a mixed cohort of trauma patients with repeated data.
Methods
A stratified sample of patients that presented at the emergency department filled out a follow-up survey 6 and 12 months after trauma. The surveys included the EQ-5D-5L+C, EQ-VAS, and the impact of events scale-revised (IES-R), a validated post-traumatic stress disorder (PTSD) self-assessment scale. Generally, results of the EQ-5D and EQ-5D+C were compared. Psychometrics included the following: distributional features (ceiling/floor effects), discriminatory performance, convergent validity with the EQ-VAS as reference, and responsiveness to change. Psychometric properties were compared between predefined subgroups based on conditions with cognitive impact (Traumatic Brain Injury (TBI)/PTSD).
Results
In total, 1799 trauma patients responded 6 and 12 months after trauma, including 107 respondents with PTSD, and 273 with TBI. Six months post-trauma, ceiling of the EQ-5D (26.3%) was reduced with 2.2% with the additional cognitive domain. Using EQ-VAS as reference, convergent validity increased slightly with the addition of the cognitive domain: correlation increasing from 0.651 to 0.664. Cognitive level was found to slightly improve over time in TBI (delta: 0.04) and PTSD patients (delta: 0.05), while (almost) no change was found in patients without TBI and PTSD.
Conclusion
Adding a cognitive domain to the EQ-5D-5L slightly improved measurement properties and better captured change in health status for trauma patients with TBI and PTSD. Inclusion of the cognitive domain in the EQ-5D-5L when measuring in populations with cognitive problems should be considered.