01-04-2015 | ORIGINAL PAPER | Uitgave 2/2015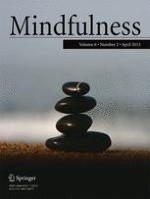 Does Patients' Pretreatment Trait-Mindfulness Predict the Success of Cognitive Psychotherapy for Emotion Regulation?
Tijdschrift:
Auteurs:

Gaetan Cousin, Dominique Page
Abstract
Theoretical and empirical accounts suggest that individuals high in trait-mindfulness can learn to regulate their negative emotions in a quicker way than individuals low in trait-mindfulness. In the present study, we hypothesized that trait-mindfulness would predict participants' improvement in emotion regulation from the beginning to the end of a 20-session standardized group therapy for emotion regulation, compared to a control group (i.e., a standardized group therapy of the same length and format but for self-assertion). Patients of a Swiss psychiatric hospital (mean age, 45.6 years old; SD = 11.0) suffering from various psychiatric disorders (i.e., depressive, anxious, and psychotic disorders) were screened for trait-mindfulness at the beginning of the two therapies and their ability to regulate their emotions was measured at the beginning and at the end of the therapies. Results confirmed our hypothesis: compared to the control group, participants having followed the therapy for emotion regulation improved less in emotion regulation when they had lower pretreatment scores of trait-mindfulness. These preliminary findings might suggest that individuals low in mindfulness need longer or more intense forms of therapy in order to reach the same outcomes as individuals high in mindfulness.