Gepubliceerd in: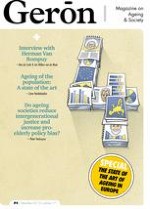 01-12-2015
Do aging societies reduce intergenerational justice and increase pro-elderly policy bias?
Gepubliceerd in: Geron | bijlage 1/2015
Abstract
Wide across the Western world, people are living longer lives and having fewer children. This has led to larger shares of elderly voters, who, many fear, are becoming an immensely powerful political pressure group. But what are the effects of population aging on public policy? This article reviews the state of the art in comparative political science and social policy. Adopting a political lens provides insights that are more theoretically refined than the increasingly shrill and alarmist assertions being voiced recently about 'gerontocratic' welfare states dominated by unholy baby boomer alliances of 'greedy grey' voters and 'myopic' or populist politicians.
Pieter Vanhuysse
is Professor of Comparative Welfare State Research at the Centre for Welfare State Research and the Department of Political Science and Public Management of the University of Southern Denmark.
Email:
vanhuysse@sam.sdu.dk