08-12-2015 | Original Article | Uitgave 3/2016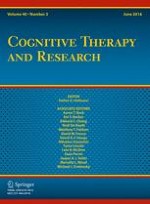 Distinct Roles of Emotion Reactivity and Regulation in Depressive and Manic Symptoms Among Euthymic Patients
Tijdschrift:
Auteurs:

Anna R. Van Meter, Eric A. Youngstrom
Abstract
Investigating differences in the ways that people react to mood-evoking stimuli and regulate subsequent emotions may help to elucidate important mechanisms underlying depressed or hypomanic mood states. Euthymic young adults with bipolar disorder (
n
= 23) or depression (
n
= 21) were recruited for a study of emotion and mood. Two mood inductions assessed for differences in mood reactivity. Participants completed measures of current symptoms and emotion regulation strategies. Maladaptive (
B
= 0.42,
p
= .021) and adaptive (
B
= −0.26,
p
= .011) emotion regulation strategies were significantly associated with depressive symptoms. Bipolar diagnosis (
B
= 5.51,
p
= .035), and threat mood reactivity (
B
= −0.26,
p
= .015) were associated with hypomanic symptoms. Interaction terms for mood reactivity and emotion regulation were not significant in either model, although net regression indicated significant differences in two trends. Depressed moods, associated with MDD or BD, may be initiated and maintained primarily due to poor choice of emotion regulation strategies. Elevated mood states are more specific to bipolar disorder, and may be triggered by mood reactivity, rather than regulation.