01-10-2010 | Original Article | Uitgave 5/2010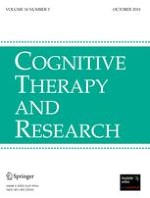 Disgust and Obsessive Beliefs in Contamination-Related OCD
Tijdschrift:
Auteurs:

Josh M. Cisler, Robert E. Brady, Bunmi O. Olatunji, Jeffrey M. Lohr
Abstract
A large body of evidence suggests that disgust is an important affective process underlying contamination fear. An independent line of research demonstrates that obsessive beliefs, particularly overestimations of threat, are also an important cognitive process underlying contamination fear. The present study attempts to integrate these two lines of research by testing whether obsessive beliefs potentiate the influence of disgust propensity on contamination fear. The interaction between disgust propensity and obsessive beliefs was tested in two large non-clinical samples (
N
= 252 in Study 1;
N
= 308 in Study 2) using two different self-report measures of contamination fear. Regression analyses supported the hypotheses in both samples. The interaction remained significant when controlling for negative affect. The results are hypothesized to suggest that contamination fear results, at least partly, from obsessive beliefs about the contamination-based appraisals that accompany heightened disgust responding. These results complement previous affective-driven explanations of the role of disgust in contamination fear by suggesting cognitive factors that similarly potentiate disgust's role in contamination fear.