01-08-2013 | Uitgave 6/2013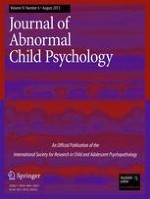 Discrepancies Between Parent and Adolescent Beliefs About Daily Life Topics and Performance on an Emotion Recognition Task
Tijdschrift:
Auteurs:

Andres De Los Reyes, Matthew D. Lerner, Sarah A. Thomas, Samantha Daruwala, Katherine Goepel
Abstract
Parents and children and adolescents commonly disagree in their perceptions of a variety of behaviors, including the family relationship and environment, and child and adolescent psychopathology. To this end, numerous studies have examined to what extent increased discrepant perceptions—particularly with regard to perceptions of the family relationship and environment—predict increased child and adolescent psychopathology. Parents' and children and adolescents' abilities to decode and identify others' emotions (i.e., emotion recognition) may play a role in the link between discrepant perceptions and child and adolescent psychopathology. We examined parents' and adolescents' emotion recognition abilities in relation to discrepancies between parent and adolescent perceptions of daily life topics. In a sample of 50 parents and adolescents ages 14-to-17 years (
M
 = 15.4 years, 20 males, 54 % African-American), parents and adolescents were each administered a widely used performance-based measure of emotion recognition. Parents and adolescents were also administered a structured interview designed to directly assess each of their perceptions of the extent to which discrepancies existed in their beliefs about daily life topics (e.g., whether adolescents should complete their homework and carry out household chores). Interestingly, lower parent and adolescent emotion recognition performance significantly related to greater parent and adolescent perceived discrepant beliefs about daily life topics. We observed this relation whilst accounting for adolescent age and gender and levels of parent-adolescent conflict. These findings have important implications for understanding and using informant discrepancies in both basic developmental psychopathology research and applied research in clinic settings (e.g., discrepant views on therapeutic goals).