01-08-2012 | Uitgave 6/2012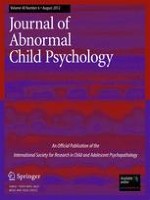 Differential Susceptibility Effects: The Interaction of Negative Emotionality and Sibling Relationship Quality on Childhood Internalizing Problems and Social Skills
Tijdschrift:
Auteurs:

Judith K. Morgan, Daniel S. Shaw, Thomas M. Olino
Belangrijke opmerkingen
Judith K. Morgan, Department of Psychiatry, University of Pittsburgh Medical Center; Daniel S. Shaw, University of Pittsburgh; Thomas Olino, Department of Psychiatry, University of Pittsburgh Medical Center
This research was funded in part by Grants MH50907 and MH46925 from the National Institute of Mental Health. We thank the staff of the Pitt Mother and Child Project and the study families for making this research possible. We also extend our appreciation to Erika Forbes and Hyein Chang for their helpful comments and assistance.
Abstract
Whereas socialization influences in early childhood have been linked to children's emerging internalizing problems and prosocial behavior, relatively few studies have examined how NE might moderate such associations in both advantageous and maladaptive ways. Furthermore, more research is needed to evaluate the impact of sibling relationships as an influential socialization influence on these child outcomes. In the current study we examined how NE might differentially moderate the associations between quality of relationships with siblings and both internalizing problems and social skills at school entry. NE moderated the effects of positive and destructive sibling relationship quality on child internalizing problems. Specifically, for boys high on NE, more positive sibling relationship quality predicted fewer internalizing problems, but more destructive sibling conflict predicted more internalizing problems. NE also moderated the effects of destructive sibling conflict on child social skills. For boys high on NE, destructive sibling conflict predicted fewer social skills. Boys high on NE appear to show greater susceptibility to the effects of sibling socialization on child outcomes, relative to boys low on NE. The implications of these interactions are discussed with respect to differential susceptibility theory.