25-02-2016 | Original Paper | Uitgave 6/2016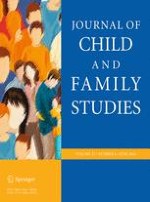 Differences in Perceived Parenting Style Between Mothers and Fathers: Implications for Child Outcomes and Marital Conflict
Tijdschrift:
Auteurs:

T. Tavassolie, S. Dudding, A. L. Madigan, E. Thorvardarson, A. Winsler
Abstract
The current study focused on relations between maternal and paternal perceived parenting style, marital conflict, and child behavior outcomes. Child participants (
N
= 152) ranged in age from 3 to 9 years old. Reports from both parents on perceived parenting style, marital conflict, and child behavior problems were collected. Results indicated that (a) parenting styles of mothers and fathers were related, (b) mothers' and fathers' authoritarianism and permissiveness were associated with increased child internalizing and externalizing behavior problems, (c) marital conflict was significantly related to child behavior problems, (d) when mother and father reported parenting styles differed, increased marital conflict was reported, (e) increased differences between mothers and fathers in self- and spouse-perceived permissiveness were related to increased child externalizing behavior problems, and (f) the direction of the differences between parents (i.e. whether a particular parent reported being more permissive than the other) was linked with marital conflict and child behavior problems. Namely, marital and child outcomes were poorer when mothers saw themselves as more authoritative than fathers and when fathers were more authoritarian than mothers, and outcomes were better when fathers saw themselves as more permissive than mothers and when mothers were more authoritarian than fathers. Implications for marital and family therapy are discussed.