31-10-2020 | Original Article | Uitgave 3/2021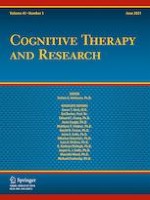 Dialectical Behavior Therapy in the Treatment of Comorbid Borderline Personality Disorder and Eating Disorder in a Naturalistic Setting: A Six-Year Follow-up Study
Tijdschrift:
Auteurs:

María V. Navarro-Haro, Verónica Guillén Botella, Laura Badenes-Ribera, Luis Borao, Azucena García-Palacios
Belangrijke opmerkingen
Publisher's Note
Springer Nature remains neutral with regard to jurisdictional claims in published maps and institutional affiliations.
Abstract
Background
Dialectical Behavior Therapy (DBT) has shown evidence of its effectiveness in the treatment of borderline personality disorder (BPD) and eating disorders (EDs) separately, and there is preliminary evidence for co-occurrent BPD and EDs. However, the long-term effectiveness of DBT for this specific population is still unknown. The main goal of this study was to assess long-term treatment effectiveness in people diagnosed with BPD and ED.
Methods
Participants (N = 109) had previously received a 6-month treatment during a clinical trial (DBT = 64 vs. Treatment as Usual, Cognitive Behavior Therapy; TAU CBT = 45). Outcome measures (emotional eating, depressive symptoms, anger, emotion regulation, impulsiveness, and resilience) were evaluated prospectively at 4- and 6-year follow-ups.
Results
There was a statistically significant improvement in most study outcomes from pre-treatment to the follow-ups in the DBT condition, and in depression, resilience and trait anger in the TAU CBT. No statistically significant between-group differences were found. Nonetheless, a high percentage of participants showed a clinically significant improvement over time in the DBT condition.
Conclusions
Findings of this study contribute to determinate the long-term treatment effectiveness of DBT for people with BPD and ED in routine psychotherapeutic practice. Longitudinal studies with larger sample sizes are needed to confirm these results.