01-11-2016 | Beschouwing | Uitgave 11/2016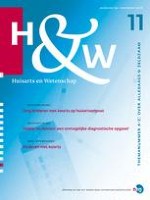 Diagnostisch denken over alledaagse ziekten
Tijdschrift:
Auteurs:

Erik Stolper, dr. Margje van de Wiel, Paul van Royen
Belangrijke opmerkingen
Maastricht University, Faculty of Health, Medicine and Life Sciences, CAPHRI School for Public Health and Primary Care, Postbus 616, 6200 MD Maastricht: dr. C.F. Stolper, huisarts-onderzoeker. Maastricht University, Faculty of Psychology and Neuroscience: dr. M.W.J. van de Wiel, cognitief psycholoog. Universiteit Antwerpen, Faculteit Geneeskunde en Gezondheidswetenschappen, vakgroep Eerstelijns- en interdisciplinaire Zorg: prof.dr. P. Van Royen, hoogleraar Huisartsgeneeskunde; prof.dr. C.F. Stolper, gastprofessor Huisartsgeneeskunde • Correspondentie: cf.stolper@maastrichtuniversity.nl • Mogelijke belangenverstrengeling: niets aangegeven.
Samenvatting
Stolper CF, Van de Wiel MWJ, Van Royen P. Diagnostisch denken over alledaagse ziekten. Huisarts Wet 2016;59(11):478-81.
Ziekten die geregeld in de huisartsenpraktijk voorkomen maar niet chronisch, acuut of mogelijk levensbedreigend zijn, noemen we alledaagse ziekten. Huisartsen lijken goed in staat te zijn om onderscheid te maken tussen alledaagse ziekten en andere, ernstiger ziektebeelden waar ingrijpen vrijwel altijd geboden is, vooral omdat zij prognostisch kunnen denken. Een bepaalde mate van diagnostische onzekerheid is kenmerkend voor het huisartsenvak. We benaderen het diagnostisch beslisproces in dit artikel vanuit drie gezichtspunten: psychologisch, besliskundig en een combinatie van beide.
Skilled intuition
en contextkennis zijn krachtige instrumenten waarmee huisartsen met enige zekerheid diagnostische of prognostische beslissingen kunnen nemen. Ze maken ook fouten in dat proces – wij laten zien waar het mis kan gaan en hoe dat te voorkomen is. Wij denken dat diagnostische onzekerheid een positieve rol kan spelen. Expliciet feedback zoeken op diagnostische beslissingen en de aanpak van het ziekteproces maakt leren en het ontwikkelen van expertise mogelijk.