24-09-2018 | Original Article | Uitgave 12/2018 Open Access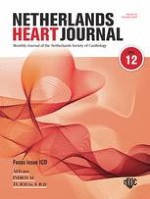 Device updates successfully reduce T‑wave oversensing and inappropriate shocks in subcutaneous ICD patients
Tijdschrift:
Auteurs:

R. Larbig, L. J. Motloch, M. Bettin, A. Fischer, N. Bode, G. Frommeyer, A. Loeher, J. Koebe, F. Reinke, L. Eckardt
Belangrijke opmerkingen
The Authors R. Larbig and L. J. Motloch contributed equally to the manuscript.
Abstract
Aims
To analyse the impact of device and software updates on the prevention of T‑wave oversensing (TWOS) and inappropriate shocks (IS) in subcutaneous ICD (S-ICD) patients.
Background
TWOS is a feared complication after implantation. It may lead to harmful IS. To date, specific strategies to reduce these events are lacking.
Methods
In this retrospective single-centre trial we analysed 146 S‑ICD patients who were implanted between 2010 and 2016. In all eligible consecutive patients (
n
 = 139), follow-up of at least 6 weeks was studied. The incidence of TWOS/IS was analysed in patients receiving a 2
nd
generation S‑ICD (Emblem-S-ICD) between 2014 and 2016 (Emblem). Their outcome was compared with a control group (SQ) treated with the SQ1010 device between 2010 and 2014, who were followed up for a maximum of 2 years. Furthermore, to test if the software update SMR8 reduces inappropriate shocks in the SQ1010-S-ICD population, the incidence of TWOS/IS was evaluated before and after update installation.
Results
Basic characteristics and indications for S‑ICD implantation were similar in both groups. However, the cumulative incidence of TWOS/IS was significantly decreased in Emblem vs. SQ (SQ: 15.4%,
n
 = 14/91 vs. Emblem 4.2%,
n
 = 2/48;
p
 = 0.049). Furthermore, with regards to the SQ population we also observed a trend towards a significant reduction of TWOS/IS after installation of the software update SMR8 in 2014 (before update: 13.4%,
n
 = 11/82 vs. after update: 4.6%, 3/65,
p
 = 0.07).
Conclusion
2nd generation devices but probably also the SMR8 software update reduce the incidence of TWOS/IS in S‑ICD patients.