01-05-2014 | Uitgave 4/2014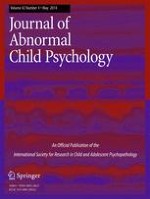 Developmental Trajectories of Anxiety Symptoms in Early Adolescence: The Influence of Anxiety Sensitivity
Tijdschrift:
Auteurs:

Nicholas P. Allan, Daniel W. Capron, Carl W. Lejuez, Elizabeth K. Reynolds, Laura MacPherson, Norman B. Schmidt
Belangrijke opmerkingen
Author Note
This work was supported by a grant from the National Institute of Drug Abuse (R01 DA18647) given to the third author. Views expressed herein are those of the authors and have neither been reviewed nor approved by the granting agency.
Abstract
Children and adolescents seem to suffer from anxiety disorders at rates similar to adults. Interestingly, anxiety symptoms appear to generally decline over time within children as evidenced by lower rates in early and middle adolescence. There is some evidence that there may be heterogeneous subpopulations of adolescent children with different trajectories of anxiety symptoms, including a class of adolescents with elevated levels of anxiety that do not dissipate over time. Anxiety sensitivity has been identified as an important risk factor in the development of anxiety psychopathology. This study prospectively examined the development of anxiety symptoms in a sample of 277 adolescents (
M
age
 = 11.52; 44 % female, 56 % male) over a 3 year period including the influence of anxiety sensitivity on this development. Further, this study investigated whether there were distinct classes of adolescents based on their anxiety symptom trajectories and including anxiety sensitivity as a predictor. Consistent with other reports, findings indicated an overall decline in anxiety symptoms over time in the sample. However, three classes of adolescents were found with distinct anxiety symptom trajectories and anxiety sensitivity was an important predictor of class membership. Adolescents with elevated anxiety sensitivity scores were more likely to be classified as having high and increasing anxiety symptoms over time versus having moderate to low and decreasing anxiety symptoms over time. There are important implications for identification of adolescents and children who are at risk for the development of an anxiety disorder.