28-05-2020 | Uitgave 10/2020 Open Access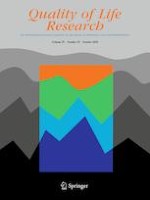 Development of a conceptual model and patient-reported outcome measures for assessing symptoms and functioning in patients with heart failure
Tijdschrift:
Auteurs:

Olga Moshkovich, Katy Benjamin, Katie Hall, Ryan Murphy, Robyn von Maltzahn, Boris Gorsh, Vanja Sikirica, Rajnish Saini, Dennis Sprecher
Belangrijke opmerkingen
Electronic supplementary material
The original article was revised due to the retrospective open access order.
Publisher's Note
Springer Nature remains neutral with regard to jurisdictional claims in published maps and institutional affiliations.
Abstract
Purpose
Heart failure (HF) is a common condition that places considerable burden on patients. We aimed to develop a patient-reported outcome (PRO) measure to assess the symptoms and impacts of HF.
Methods
Phase 1: a targeted literature review, expert interviews, and concept elicitation (CE) interviews with patients with HF (
n
 = 26) were used to develop a conceptual model of the core symptoms and impacts of HF. To capture these concepts, three new fit-for-purpose PRO questionnaires were constructed in accordance with US Food and Drug Administration PRO guidance. Phase 2: three 'waves' of cognitive interviews were conducted with patients with HF (
n
 = 28) to validate and refine the questionnaires.
Results
Three key symptoms—shortness of breath, oedema, and fatigue—were identified across the literature review, expert interviews and CE interviews. Several additional symptoms, cognitive changes and impacts of HF were reported in the CE interviews and included in the conceptual model. A 10-item symptom questionnaire (Heart Failure-Daily Symptom Diary) was constructed; cognitive testing showed that the final PRO measure was easy to understand/complete and relevant to patients with HF, confirming content validity. Two HF impact questionnaires were developed (Assessing Dyspnoea's Impact on Mobility and Sleep and Heart Failure-Functional Status Assessment), but required refinement to ensure patient understanding.
Conclusions
Patient input contributed to the development of a PRO instrument for assessing physical and cognitive symptoms important to patients with HF using novel measurement strategies. Inclusion of daily metrics offers differentiation from other qualified instruments and may provide clinical insight for improving lifestyles. Additionally, two draft PRO measures may, after further validation, be useful to assess the impacts of HF.