01-12-2017 | onderzoek | Uitgave 12/2017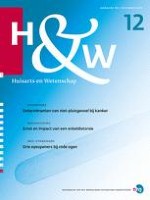 Determinanten van niet-pluisgevoel bij kanker
Tijdschrift:
Auteurs:

Gé Donker, Eva Wiersma, Eva Wiersma, Lucas van der Hoek, Marianne Heins
Belangrijke opmerkingen
NIVEL Zorgregistraties eerste lijn, Peilstations, Utrecht: dr. G.A. Donker, huisarts-epidemioloog, coördinator Peilstations; L. van der Hoek, methodoloog-statisticus; dr. Marianne Heins, epidemioloog. VU Medisch Centrum, Amsterdam: E. Wiersma, huisarts-in-opleiding, ten tijde van het onderzoek medisch student
Mogelijke belangenverstrengeling: niets aangegeven.
Dit is een bewerkte vertaling van Donker GA, Wiersma E, Van der Hoek L, Heins M. Determinants of general practitioner's cancer-related gut feelings – a prospective cohort study. BMJ Open 2016;6:e012511. Publicatie gebeurt met toestemming.
Samenvatting
Donker GA, Wiersma E, Van der Hoek L, Heins M. Determinanten van niet-pluisgevoel bij kanker Huisarts Wet 2017;60(12):620-2.
Achtergrond
Huisartsen gebruiken hun niet-pluisgevoel om kanker te diagnosticeren, maar er is weinig bekend over de relatie van het niet-pluisgevoel met patiënt- en huisartskenmerken.
Methode
Prospectief cohortonderzoek onder patiënten in 44 huisartsenpraktijken verspreid over Nederland, van januari 2010 tot en met december 2013. De huisartsen noteerden in een vragenlijst wat de aanleiding was voor het gevoel, het vervolgbeleid en de verwachte diagnose. Drie maanden nadien zijn we met een follow-upvragenlijst bij dezelfde patiënten nagegaan welke diagnose de huisarts had gesteld en of deze conform de geanticipeerde diagnose was. We hebben een chi-kwadraattoets, uni- en multivariate logistische regressie- en multilevel-analyses uitgevoerd.
Resultaten
Van 366 gerapporteerde patiënten had 35% drie maanden later kanker als diagnose. De meest voorkomende triggers waren: onverklaard gewichtsverlies (n = 85) en sporadisch spreekuurbezoek (n = 76), gevolgd door het aanhouden van klachten (n = 64). Uit een multivariate analyse bleek dat geen van de triggers samenhing met kanker. De positief voorspellende waarde van het niet-pluisgevoel nam met 2% toe voor elk jaar dat een patiënt ouder was en met 3% voor elk jaar dat de leeftijd van de huisarts toenam. Het geslacht van de huisarts bleek niet van invloed op de voorspellende waarde van het niet-pluisgevoel.
Conclusie
Het niet-pluisgevoel van de huisarts blijkt een nuttig diagnostisch instrument voor het diagnosticeren van kanker en de relatief hoge voorspellende waarde neemt toe naarmate de huisarts ouder en meer ervaren is, en naarmate de patiënt ouder is. Deze bevindingen verdienen aandacht in onderwijs en richtlijnen.