Gepubliceerd in: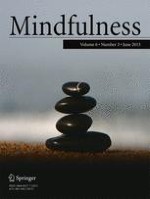 Open Access 01-06-2015 | ORIGINAL PAPER
Design of Economic Evaluations of Mindfulness-Based Interventions: Ten Methodological Questions of Which to Be Mindful
Gepubliceerd in: Mindfulness | Uitgave 3/2015
Abstract
Mindfulness-based interventions (MBIs) are being increasingly applied in a variety of settings. A growing body of evidence to support the effectiveness of these interventions exists and there are a few published cost-effectiveness studies. With limited resources available within public sectors (health care, social care, and education), it is necessary to build in concurrent economic evaluations alongside trials in order to inform service commissioning and policy. If future research studies are well-designed, they have strong potential to investigate the economic impact of MBIs. The particular challenge to the health economist is how best to capture the ways that MBIs help people adjust to or build resilience to difficult life circumstances, and to disseminate effectively to enable policy makers to judge the value of the contribution that MBIs can make within the context of the limited resourcing of public services. In anticipation of more research worldwide evaluating MBIs in various settings, this article suggests ten health economics methodological design questions that researchers may want to consider prior to conducting MBI research. These questions draw on both published standards of good methodological practice in economic evaluation of medical interventions, and on the authors' knowledge and experience of mindfulness-based practice. We argue that it is helpful to view MBIs as both complex interventions and as public health prevention initiatives. Our suggestions for well-designed economic evaluations of MBIs in health and other settings, mirror current thinking on the challenges and opportunities of public health economics.
Introduction
Discussion
While there is a growing body of evidence supporting effectiveness of MBIs, more well-designed research evaluating cost-effectiveness is now needed. Specific considerations towards the design of a research trial or study are necessary in order to provide a robust body of evidence for service commissioners allocating scarce health care and social care resources. Many of the challenges facing the economic evaluation of public health interventions are relevant to mindfulness research. MBIs are complex interventions and it is important that the depth and breadth of effects are captured in economic analyses. Key methodological considerations are required to counter factors such as the need for a larger sample size as a result of a cluster randomised design. Researchers should choose the method of economic analysis most appropriate for the evaluating of MBIs based on the perspective that costs and benefits are being measured. Where a threshold is relevant for a funding decision, as in the case of NICE in the UK (NICE
2008
), a cost-utility approach which allows for cost-per-QALY estimates and comparisons across interventions may be most appropriate. Cost–benefit analysis may be the most appropriate way for researchers interested in mindfulness training in school or workplace settings, to capture the full economic benefits of improving well-being in a broad sense. It may be that a cost–benefit approach is more appropriate than a traditional cost-effectiveness approach focussing on individuals' assessment of their own health-related quality of life. Cost-consequence analysis is recommended by those interested in the methodological challenges of public health interventions as a solution to capturing a wide range of benefits, e.g. to an individual, family, school or work place, or wider society. It may be that cost-consequence analysis is most appropriate for capturing and illustrating the full range of wider benefits of MBIs where monetary values are difficult to assign to outcomes, as is necessary in cost–benefit analysis. A cost-utility analysis or cost-effectiveness analysis, embedded in a wider cost-consequence analysis, may meet commissioners need to inform a decision rule, whilst acknowledging the wider range of outcomes from a MBI. Public health practitioners focus on equity considerations and inequalities in health. It is important that those studying the effectiveness and cost-effectiveness of MBIs in different settings also give these due consideration, particularly with respect to making MBIs accessible to hard to reach groups in society. This is relevant to the generalisability of results and to the question of how to alleviate suffering associated with those facing multiple challenges of living in socio-economically challenging circumstances. While economic modelling may be useful in mindfulness research, especially to extrapolate into the longer term and to address uncertainty, more trials and data is needed in order to populate the parameter estimates required in economic models. The field of health economics has tended to operate within the medical model paradigm of quantitative analysis. However, more recently health economists have begun to acknowledge the potential contribution of qualitative research methods in explaining measurable relationships (Coast
1999
). The health economist must be objective and dispassionate and want to find out whether an intervention is effective and cost-effective, regardless of whether the results of the trial or economic evaluation end up positive or negative. In our view, some appreciation for the purpose, origins, delivery and potential range of relevant costs and outcomes is essential to the design of a robust economic evaluation of MBIs. Existing published health economics literature of mindfulness interventions is beginning to inform the body of economic evidence in this area. We encourage future trials of MBIs to build in a concurrent economic evaluation in order to provide robust evidence to service commissioners.
Acknowledgements
We would like to thank the delegates who participated in our workshop on mindfulness and health economics at the Centre for Mindfulness Research and Practice International Scientific Conference in March 2013. The questions and group discussions have helped inform our refinement of some of the challenges for health economists wishing to evaluate mindfulness-based interventions. We would like to thank Alison Shaw for providing reader support to RTE. We would like to thank the reviewers for their extremely helpful comments.
Open Access
This article is distributed under the terms of the Creative Commons Attribution License which permits any use, distribution, and reproduction in any medium, provided the original author(s) and the source are credited.