01-02-2006 | Uitgave 1/2006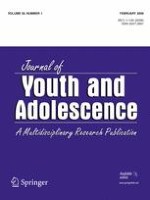 Depressive Symptoms, Stress, and Support: Gendered Trajectories From Adolescence to Young Adulthood
Tijdschrift:
Auteurs:

Sarah O. Meadows, J. Scott Brown, Glen H. Elder Jr.
Belangrijke opmerkingen
Postdoctoral Research Fellow at the Center for Research on Child Wellbeing at Princeton University. She received her PhD in Sociology from Duke University. Her major research interests are adolescent mental health and delinquency, adult depression, marriage and health, and gender.
Assistant Professor in the Department of Sociology and Gerontology, Scripps Gerontology Center, Miami University. His research interests are focused on wealth and health inequalities across the life course with particular emphasis on gender and race differences in physical and mental health. His current projects include examinations of stratification in mortality and disability across socioeconomic status, race, and gender; investigation of the association between social and mental-health life course trajectories; analyses of the variation in race and ethnic measurement and its social and health implications; and investigation of the initiation of and changes in social security policies.
Howard W. Odum Distinguished Professor of Sociology in the Department of Sociology at the University of North Carolina at Chapel Hill. His main fields of interest are the life course, family, and social change. He is conducting longitudinal studies of the transition to adulthood, the middle years, and later life, with an emphasis on intergenerational links.
Stressful transitions in adolescence increase depressive symptoms, especially among girls. However, little is known about this risk as adolescents mature into young adulthood, especially about how parental support affects depression trajectories during this period. Using the National Longitudinal Study of Adolescent Health, this analysis investigates the role of gender in structuring the associations among stressful life events, parental support, and depression. Females reported more depressive symptoms at the outset of the study, a rank order that persisted along declining depression trajectories into young adulthood. In addition, stress accounts for the decline in trajectories for females but not males. Support from both parents has a salubrious effect on mental health, regardless of gender, but this effect dissipates as adolescents age into adulthood.