15-08-2018 | ORIGINAL PAPER | Uitgave 4/2019 Open Access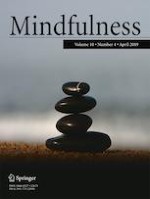 Depressive Symptoms and Emotional Eating: Mediated by Mindfulness?
Tijdschrift:
Auteurs:

Marthe M. Höppener, Junilla K. Larsen, Tatjana van Strien, Machteld A. Ouwens, Laura H. H. Winkens, Rob Eisinga
Belangrijke opmerkingen
Electronic supplementary material
Abstract
The association between depressive symptoms and emotional eating has been well established. The aim of the current study was to examine whether the association between depressive symptoms and emotional eating was mediated by mindfulness, a construct that has successfully been implemented in the treatment of eating disorders and depression. Mindfulness, particularly, the component "acting with awareness" was theorized to decrease impulsive eating. Data from 417 Dutch adult participants were analyzed. Mediation analyses were conducted using structural equation modeling in Mplus. Of the five mindfulness subcomponents, only acting with awareness mediated the association between depressive symptoms and emotional eating. Results showed complete mediation in that the effect of depression on emotional eating was entirely carried indirectly through the mediator acting with awareness. None of the other mindfulness components mediated the depressive symptoms-emotional eating link. This indicates the potential importance of the "acting with awareness" construct, explaining why depressive symptoms would be associated with emotional eating. Future prospective research should examine whether, why and for whom acting with awareness may mediate the prospective link from depressive symptoms to emotional eating.