01-12-2014 | Research | Uitgave 1/2014 Open Access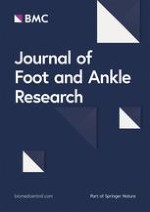 Depression symptoms in people with diabetes attending outpatient podiatry clinics for the treatment of foot ulcers
Tijdschrift:
Auteurs:

Sue Pearson, Toni Nash, Vanessa Ireland
Belangrijke opmerkingen
Competing interests
The authors declare that they have no competing interests.
Abbreviations
PHQ
Patient Health Questionnaire
SDSCA
Diabetes self-care was assessed using the Summary of Diabetes Self Care Activities
PCS
Physical Component Summary score
MCS
Mental component summary score
Background
Methods
Participants consisted of 60 people with diabetes and one or more foot ulcers being treated at the foot ulcer clinics run by the Department of Podiatry at the Royal Hobart Hospital in Tasmania, Australia. Both men and women aged 18 years and over who had diabetes (type 1 and 2) were eligible. Participants were excluded if they had a physical or mental condition that prevented them from signing the consent form or filling in the questionnaires. Participants were approached while waiting to be seen by the podiatrist at the clinic. Willing participants could complete the questionnaires while they were waiting for their appointment or they could take them home, complete them and return them in a prepaid envelope. This pilot study was approved by the Tasmanian Health and Medical Human Research Ethics Committee (protocol H11941). During the recruitment period from February to August of 2012, 146 people had scheduled outpatient appointments. Of these patients 75 were excluded and deemed ineligible due to the following reasons; being non-diabetic, having an existing mental health problem, their ulcer had healed or they were being treated for Charcot's foot, they failed to show up or were unable to sign the consent form. Five refused and 11 failed to return their questionnaires leaving 60 participants in the final analysis of the study.
Measures
Statistical analysis
Basic despriptive statistics are presented including percentages, means and standard deviations. Group differences were examined using chi-square tests for categorical variables. Fishers exact test was applied where 20% of cell frequencies fell below five. Independent samples
t
-tests and one-way analysis of variance were used for comparison of continuous normally distributed variables and the Kruskal-Wallis test for continuous non-normally distributed variables.
Results
Of the seventeen participants who were on antidepressants for depression there was available data on the duration of antidepressant treatment for thirteen. The duration of antidepressant treatment was a median of 104 weeks (IQR 20 and 494 weeks). Of these participants 6 (46.2%) had been on antidepressants for more than two years and 3 (23.1%) for more than 10 years.
Discussion
Limitations of the study include the small sample size and that housebound and community clinic patients with ulcers would not have been identified. This limits the generalization of the study results to some degree and the statistical analysis. An additional limitation was the missing data for HbA1C. It was not in the protocol to measure this at the time of consent and was reliant on existing documentation in the medical records. It raises questions about the representativeness of the data. Also there are inherent limitations with self-report questionnaires such as under or over reporting.
Conclusion
In conclusion this study found a high prevalence of depression as determined using the PHQ in people with diabetes and foot ulcers. Most with severe depression were being treated with antidepressants, however the prolonged use of antidepressants appears to be ineffective in the majority of cases. There was also a high prevalence of participants with mild to moderate depressive symptoms that were not previously identified. This is concerning given the evidence from other research in this area of an association of mild depression in people with diabetes and foot ulcers with increased mortality [
23
]. It has been recognised that mild depression in people with diabetes is a significant predictor of severe depression at two years follow-up [
42
]. With the increasing incidence of diabetes globally, identification of previously unrecognized depression (mild and moderate to severe) in people with diabetes either before the onset of complications or those with existing complications is important as it provides the opportunity for early intervention. From a public health perspective the provision of evidence-based therapies for those with depression and foot ulceration should form part of the holistic management of this group with complex medical and psychosocial needs.
Authors' contributions
SP, TN and VI contributed the conception and design of the study. TN and VI study data collections. SP analyzed the data and drafted the manuscript and TN and VI helped finalize and revise the manuscript. All three authors approved the final version of the manuscript.
Acknowledgements
This study was funded by a grant from the Tasmanian Community Fund. The authors gratefully acknowledge the contribution of the study participants and the staff of the Podiatry Department of the Royal Hobart Hospital and research coordinators Julie Williams and Anna Green.
This article is published under license to BioMed Central Ltd. This is an Open Access article distributed under the terms of the Creative Commons Attribution License (
http://​creativecommons.​org/​licenses/​by/​4.​0
), which permits unrestricted use, distribution, and reproduction in any medium, provided the original work is properly credited. The Creative Commons Public Domain Dedication waiver (
http://​creativecommons.​org/​publicdomain/​zero/​1.​0/​
) applies to the data made available in this article, unless otherwise stated.
Competing interests
The authors declare that they have no competing interests.