09-02-2016 | Empirical Research | Uitgave 8/2016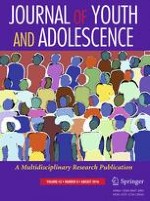 Depressed Mood During Early to Middle Adolescence: A Bi-national Longitudinal Study of the Unique Impact of Family Conflict
Tijdschrift:
Auteurs:

Adrian B. Kelly, W. Alex Mason, Mary B. Chmelka, Todd I. Herrenkohl, Min Jung Kim, George C. Patton, Sheryl A. Hemphill, John W. Toumbourou, Richard F. Catalano
Abstract
Adolescent depressed mood is related to the development of subsequent mental health problems, and family problems have been linked to adolescent depression. Longitudinal research on adolescent depressed mood is needed to establish the unique impact of family problems independent of other potential drivers. This study tested the extent to which family conflict exacerbates depressed mood during adolescence, independent of changes in depressed mood over time, academic performance, bullying victimization, negative cognitive style, and gender. Students (13 years old) participated in a three-wave bi-national study (
n
= 961 from the State of Washington, United States,
n
= 981 from Victoria, Australia; 98 % retention, 51 % female in each sample). The model was cross-lagged and controlled for the autocorrelation of depressed mood, negative cognitive style, academic failure, and bullying victimization. Family conflict partially predicted changes in depressed mood independent of changes in depressed mood over time and the other controls. There was also evidence that family conflict and adolescent depressed mood are reciprocally related over time. The findings were closely replicated across the two samples. The study identifies potential points of intervention to interrupt the progression of depressed mood in early to middle adolescence.