29-01-2015 | Original Paper | Uitgave 11/2015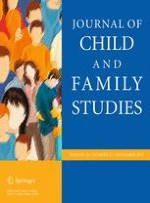 Demographic and Parenting Correlates of Adolescent Sleep Functioning
Tijdschrift:
Auteurs:

Martha I. Zapata Roblyer, Joseph G. Grzywacz
Abstract
Despite the importance of parenting practices for adolescent adjustment, parenting correlates of adolescent sleep functioning remain understudied. This study delineated patterns of sleep functioning in a sample of ethnically diverse, low-income, adolescents and examined associations among three types of parenting practices (parental involvement, parent–child conflict, and parental control) and adolescent sleep functioning (difficulties initiating sleep and maintaining sleep, and sleep duration). Adolescents (
N
= 91, 11–19 years old) self-reported on sleep functioning and parenting practices. Results showed that in the preceding month, 60.5 % of adolescents had difficulties initiating sleep and 73.6 % had difficulties maintaining sleep. Most adolescents slept 8 or more hours per night, but 30.7 % slept less than 8 h. Latino adolescents slept longer and had fewer difficulties maintaining sleep than non-Latino. High school students had fewer difficulties maintaining sleep than their middle school counterparts; conversely, older adolescents experienced shorter sleep duration than younger ones. Adolescents whose parents had post-secondary education had shorter sleep duration than those whose parents had not graduated from high school. Parental control was correlated with fewer difficulties initiating sleep, whereas parent–child conflict was correlated with more difficulties maintaining sleep. There were no parenting correlates of sleep duration. Latino adolescents had better sleep profiles than non-Latino ones. Regression analyses showed that parental control and parent–child conflict were associated with adolescent sleep functioning across ethnicities. Results suggest that parenting practices, as well as demographic characteristics, are associated with adolescent sleep functioning and should be taken into account in interventions aimed at improving sleep functioning among adolescents.