01-12-2009 | Original Article | Uitgave 6/2009 Open Access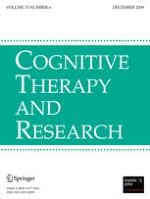 Deductive Reasoning and Social Anxiety: Evidence for a Fear-confirming Belief Bias
Tijdschrift:
Auteurs:

Maartje S. Vroling, Peter J. de Jong
Abstract
This study investigated the relationship between belief bias and fear of negative evaluation. Belief bias refers to a bias in deductive reasoning that acts to confirm rather than falsify prior beliefs. Participants (
N
= 52) with varying levels of fear of negative evaluation completed a belief bias task by means of linear syllogisms, with stimuli covering both social anxiety convictions and factual neutral statements. A linear relationship was found between fear of negative evaluation and belief bias for the social anxiety conviction category. No differences in reasoning were found for the neutral syllogisms. These results support the view that highly socially anxious individuals do not have a reasoning abnormality, but do have difficulty judging anxiogenic information as false and reassuring convictions-contradicting information as true. Such belief bias logically prevents dysfunctional cognitions from being corrected, thereby sustaining phobic fear.