28-12-2019 | Uitgave 4/2020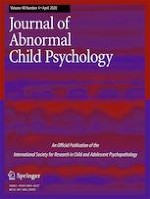 Decision-Making Deficits in Adolescent Boys with and without Attention-Deficit/Hyperactivity Disorder (ADHD): an Experimental Assessment of Associated Mechanisms
Tijdschrift:
Auteurs:

Tycho J. Dekkers, Hilde M. Huizenga, Arne Popma, Anika Bexkens, Jacqueline N. Zadelaar, Brenda R. J. Jansen
Belangrijke opmerkingen
Electronic supplementary material
Publisher's Note
Springer Nature remains neutral with regard to jurisdictional claims in published maps and institutional affiliations.
Abstract
Adolescents with Attention-Deficit/Hyperactivity Disorder (ADHD) demonstrate increased levels of real-life risk-taking behavior like substance abuse and reckless behavior in traffic, which potentially originates in decision-making deficits. Using experimental gambling tasks, the current study investigated three potential underlying mechanisms: (1) risky vs. suboptimal decision making, (2) the complexity of decision-making strategies and (3) the influence of feedback. Participants were 181 male adolescents (81 ADHD, 100 Typically Developing (TD);
M
age
 = 15.1 years). First, we addressed a common confound in many gambling tasks by disentangling risk seeking from suboptimal decision making, and found that ADHD-related decision-making deficits do not originate in increased risk seeking but in suboptimal decision making. Second, we assessed decision-making strategies with a Bayesian latent mixture analysis and found that ADHD-related decision-making deficits are characterized by the use of less complex strategies. That is, adolescent boys with ADHD, relative to TD adolescent boys, less often adopted strategies in which all characteristics relevant to make an optimal decision were integrated. Third, we administered two gambling task conditions with feedback in which adolescents experience the outcomes of their decisions and found that adolescents with ADHD performed worse relative to TD adolescents on both conditions. Altogether, this set of studies demonstrated consistent decision-making deficits in adolescent boys with ADHD: The use of less complex decision-making strategies may cause suboptimal decision making, both in situations with and without direct feedback on performance.