08-11-2017 | Artikel | Uitgave 4/2017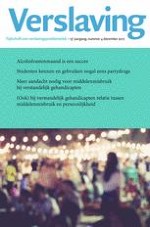 De relatie tussen persoonlijkheidsdimensies en middelengebruik bij mensen met een licht verstandelijke beperking
Tijdschrift:
Auteurs:

Anne-lena de Vletter, Roy Otten, Robert Didden, Evelien A. P. Poelen
Belangrijke opmerkingen
Dit artikel is een bewerking van Poelen, E. A. P., Schijven, E. P., Otten, R., & Didden, R. (2017). Personality dimensions and substance use in individuals with mild to borderline intellectual disabilities.
Research in Developmental Disabilities, 63
, 142–150.
Samenvatting
Dit artikel gaat over een onderzoek naar de samenhang van de persoonlijkheidsdimensies angstgevoeligheid, negatief denken, impulsiviteit en sensatiezoeken met stoornissen in het gebruik van middelen bij mensen met een licht verstandelijke beperking (LVB). De data zijn verzameld met de SURPS (persoonlijkheidsdimensies) en de SumID-Q (middelengebruik) bij 118 cliënten van een zorginstelling voor mensen met LVB en ernstige gedragsproblemen. Het gemiddelde IQ van de deelnemers was 71,1 en de gemiddelde leeftijd was 20,5 jaar. Bij mensen die minder angstgevoelig zijn, meer negatief denken, impulsiever zijn en meer sensatiezoeken, werd een hoger risico op stoornissen in het gebruik van alcohol gevonden. Mensen met een sterkere neiging tot negatief denken en sensatiezoeken hadden een hoger risico op stoornissen in het gebruik van drugs. De SURPS-persoonlijkheidsdimensies kunnen worden gebruikt om mensen met LVB met een groter risico op middelenmisbruik te identificeren en kunnen dienen als basis voor gepersonaliseerde interventies met betrekking tot middelenmisbruik bij deze groep.