03-07-2020 | Artikelen | Uitgave 3/2020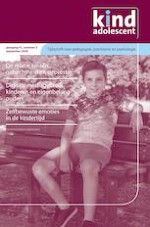 De relatie tussen gehechtheid en depressie bij kinderen en adolescenten: een multilevel meta-analyse
Tijdschrift:
Auteurs:

Dr. Anouk Spruit, MSc Linda Goos, MSc Nikki Weenink, Dr. Roos Rodenburg, Dr. Helen Niemeyer, Prof. Dr. Geert Jan Stams, Dr. Cristina Colonnesi
Belangrijke opmerkingen
Dit artikel is een Nederlandstalige bewerking van de volgende publicatie: Spruit, A., Goos, L., Weenink, N., Rodenburg, H.R., Niemeyer, H., Stams, G.J.J.M., & Colonnesi, C. (2019). The relation between attachment and depression in children and adolescents: a multilevel meta-analysis.
Clinical Child and Family Psychology Review.
https://​doi.​org/​10.​1007/​s10567-019-00299-9
. Link naar originele publicatie:
https://​link.​springer.​com/​article/​10.​1007/​s10567-019-00299-9
Samenvatting
Inleiding
Uit eerder onderzoek blijkt dat gehechtheid een belangrijke rol speelt bij psychopathologie, maar dit is nog niet op meta-analytische wijze getoetst voor depressie. Daarom hebben we de samenhang tussen gehechtheid en depressie bij kinderen en adolescenten onderzocht door middel van een meta-analyse.
Methode
In totaal zijn 643 effectgroottes uit 123 onafhankelijke steekproeven geïncludeerd in de multilevel meta-analyse.
Resultaten
Er werd een significante, middelgrote effectgrootte (
r
 = 0,31) gevonden voor de globale relatie tussen gehechtheid en depressie, wat betekent dat gehechtheid geassocieerd is met depressie. Daarnaast blijkt dit verband significant te zijn in zowel cross-sectionele (
r
 = 0,36) als in longitudinale studies (
r
 = 0,20). Multivariate analyse van de significante moderatoren die invloed hadden op de sterkte van het verband tussen gehechtheid en depressie liet zien dat het land van de studie, het studiedesign, het geslacht, het type gehechtheid en het type instrument om gehechtheid vast te stellen een unieke bijdrage leverden aan het verklaren van variantie.
Discussie
Deze meta-analyse laat zien dat onveilige gehechtheid samengaat met depressie en dat onveilige gehechtheid een risicofactor is voor depressie bij kinderen en adolescenten. Bij de behandeling van depressie bij kinderen en adolescenten moet er daarom aandacht zijn voor gehechtheid.