09-07-2021 | Wetenschappelijk artikel | bijlage 1/2021 Open Access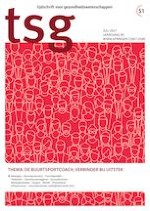 De relatie tussen de wervingsstrategie van de buurtsportcoach en kenmerken van bereikte deelnemers aan activiteiten van de buurtsportcoach
Tijdschrift:
Auteurs:

Eva Smit, Karlijn Leenaars, Annemarie Wagemakers, Koos van der Velden, Gerard Molleman
Belangrijke opmerkingen
Dit artikel is mede gebaseerd op Smit E, Leenaars K, Wagemakers A, Velden K van der, Molleman G. How to recruit inactive residents for lifestyle interventions: participants' characteristics based on various recruitment strategies. Health Promot Int. 2020, Dec 3. Epub 2020 Dec 3.
Samenvatting
Inleiding
Buurtsportcoaches zijn aangesteld om een verbinding te creëren tussen de eerstelijnszorg en de bewegingssector om inactieve bewoners te stimuleren lichamelijk actief te worden. Buurtsportcoaches gebruiken drie wervingsstrategieën om deze doelgroep te bereiken. Het doel van dit onderzoek was om te achterhalen of buurtsportcoaches met de verschillende wervingsstrategieën andere deelnemers qua beweeggedrag en gezondheidskenmerken bereiken.
Methode
De buurtsportcoaches hebben deelnemers voor de activiteiten en het onderzoek geworven via public relations (
n
 = 135), een persoonlijke brief (
n
 = 136) of een verwijzing (
n
 = 98). De deelnemers hebben voor aanvang van de activiteit een fysieke test gedaan en een vragenlijst ingevuld. Met behulp van multilevel-analyses zijn de deelnemers per wervingsstrategie vergeleken op beweegnorm, kwaliteit van leven, motivatie,
self-efficacy
, morbiditeit en fitheid.
Resultaten
De drie groepen verschilden op de beweegnorm (
p
 = 0,002). Er waren ook statistisch significante verschillen tussen de drie groepen met betrekking tot acht van de negen dimensies van kwaliteit van leven, motivatie (
p
 = 0,027) en het aantal somatische aandoeningen (
p
 = 0,007). Voor geestelijke gezondheid en self-efficacy waren er geen significante verschillen. Op alle dimensies scoort de verwijzingsgroep het minst gunstig.
Conclusie
Het werven van deelnemers via een actieve wervingsstrategie, zoals verwijzingen, leverde vooral deelnemers op die vaker inactief zijn en/of risico lopen op chronische ziekten. Zij hebben het meeste baat bij de activiteiten van de buurtsportcoach. De investering in tijd en geld voor een actieve wervingsstrategie is daarom zeer de moeite waard.