14-09-2016 | Artikelen | Uitgave 3/2016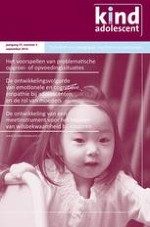 De ontwikkelingsvolgorde van emotionele en cognitieve empathie bij adolescenten, en de rol van moeders
Tijdschrift:
Auteurs:

Dr. Caspar J. Van Lissa, Dr. Skyler T. Hawk, Dr. Minet De Wied, Dr. Hans M. Koot, Dr. Pol Van Lier, Dr. Wim Meeus
Belangrijke opmerkingen
Voor dit onderzoek werden gegevens van de RADAR-studie gebruikt. RADAR is financieel voornamelijk ondersteund door subsidies van NWO (GB-MaGW 480-03-005, GB-MaGW 480-08-006) en Stichting Achmea Slachtoffer en Samenleving (SASS), en diverse andere subsidies van NWO, de Vrije Universiteit Amsterdam en de Universiteit Utrecht.
Samenvatting
Deze vierjarige studie met jaarlijkse metingen onderzocht de wisselwerking tussen emotionele en cognitieve empathie van adolescenten en hun moeders. We gingen na 1) of de ontwikkelingsvolgorde van empathie in de adolescentie verloopt van emotionele empathie naar cognitieve empathie, of vice versa; 2) of de empathie van moeders de ontwikkeling van empathie bij hun kinderen voorspelt; 3) of het geslacht van adolescenten deze intergenerationele overdracht van moeders naar adolescenten modereert; en 4) of verschillen tussen respondenten stabieler waren voor emotionele of voor cognitieve empathie, en voor adolescenten of voor moeders.
De resultaten toonden aan dat de emotionele empathie van adolescenten de ontwikkeling van cognitieve empathie één jaar later positief voorspelde, maar niet andersom. Hogere cognitieve empathie van moeders voorspelde een relatieve toename van cognitieve empathie bij meisjes, maar niet bij jongens. Verschillen tussen adolescenten waren stabieler voor emotionele empathie dan voor cognitieve empathie. Bij moeders waren emotionele en cognitieve empathie even stabiel, en stabieler dan bij adolescenten.
Dit onderzoek suggereert daarmee dat de ontwikkeling van empathie in de adolescentie verloopt van emotionele naar cognitieve empathie, in tegenstelling tot voorgaande theoretische en experimentele literatuur, die effecten in de omgekeerde richting benadrukte. Het biedt ook het eerste longitudinale bewijs voor intergenerationele overdracht van empathie. Samen met de lagere stabiliteit van cognitieve empathie ondersteunen deze bevindingen het idee dat de adolescentie een gevoelige periode is voor de ontwikkeling van cognitieve empathie.