24-05-2018 | Artikelen | Uitgave 3/2018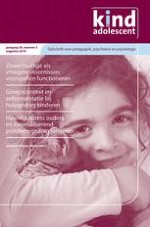 De ontwikkeling van huwelijksstress en externaliserend gedrag in de tijd
De rol van ouderlijke competentiegevoelens
Tijdschrift:
Auteurs:

MSc W. M. van Eldik, Prof. dr. P. Prinzie, Prof. dr. M. Deković, Dr. A. D. de Haan
Belangrijke opmerkingen
Dit artikel is een bewerking van: Eldik, W. M. van, Prinzie, P., Deković, M., & Haan, A. D. de (2017). Longitudinal associations between marital stress and externalizing behavior: does parental sense of competence mediate processes?
Journal of Family Psychology, 31
, 420–430.
https://​doi.​org/​10.​1037/​fam0000282
.
Samenvatting
Deze longitudinale studie onderzocht in welke mate huwelijksstress en externaliserend probleemgedrag van jongeren zich in samenhang ontwikkelen en in hoeverre ouderlijke competentiebeleving een verklarende rol speelt in deze samenhang. Moeders en vaders van 369 gezinnen (46,1 % jongens,
Mleeftijd
T1
 = 7,7 jaar) vulden drie maal vragenlijsten in (2001, 2007, 2009). De resultaten lieten allereerst zien dat een sterkere daling van huwelijksstress in de loop van acht jaar samenhing met een sterkere daling van externaliserend probleemgedrag. Ten tweede werd de mediërende rol van competentiegevoelens niet bevestigd. Ten derde was meer huwelijksstress gerelateerd aan een lagere competentiebeleving en hing, andersom, een lagere competentiebeleving samen met meer huwelijksstress, in de loop van zes jaar. Tot slot was meer externaliserend probleemgedrag gerelateerd aan meer huwelijksstress en een lagere ouderlijke competentiebeleving tijdens de adolescentie. Verbanden waren analoog voor moeders en vaders. Resultaten bevestigen dat gezinsinterventies gericht op het versterken van ouderlijke competentiegevoelens en opvoedgedrag aandacht zouden moeten besteden aan steun en stress in de huwelijksrelatie.