13-07-2017 | Uitgave 3/2017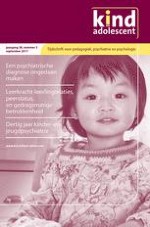 De onderlinge samenhang tussen leerkracht-leerlingrelaties, peerstatus, en gedragsmatige betrokkenheid
Tijdschrift:
Auteurs:

MSc Maaike C. Engels, Prof. Hilde Colpin, Prof. Karla Van Leeuwen, Prof. Patricia Bijttebier, Prof. Wim Van Den Noortgate, Prof. Stephan Claes, Prof. Luc Goossens, Prof. Karine Verschueren
Belangrijke opmerkingen
Dit artikel is een Nederlandse bewerking van het oorspronkelijke artikel: Engels, M.C., Colpin, H., Leeuwen, K. van, Bijttebier, P., Noortgate, W. van den, Claes, S., Goossens, L. & Verschueren, K. (2016). Behavioral engagement, peer status, and teacher-student relationships in adolescence: A longitudinal study on reciprocal influences.
Journal of Youth and Adolescence, 45
(6), 1192–1207. doi:
10.​1007/​s10964-016-0414-5
Link naar origineel artikel
http://​rdcu.​be/​nRqg
.
Samenvatting
Deze studie onderzocht hoe leerkracht-leerlingrelaties, peerstatus en gedragsmatige betrokkenheid onderling samenhangen in het secundair onderwijs. Hierbij werd onderscheid gemaakt tussen een positieve en een negatieve dimensie in de leerkracht-leerlingrelatie en tussen twee aspecten van peerstatus, namelijk acceptatie en populariteit.
De onderzoeksgroep bestond uit 1116 Vlaamse adolescenten uit het eerste, tweede en derde leerjaar van het secundair onderwijs. Tijdens jaarlijkse metingen werden peernominaties van leerkracht-leerlingrelaties en peerstatus, en zelfrapportages van gedragsmatige betrokkenheid afgenomen.
Uit
cross-lagged
analyses bleek dat positieve leerkracht-leerlingrelaties meer betrokkenheid en negatieve leerkracht-leerlingrelaties minder betrokkenheid voorspelden in de loop van de tijd. Daarnaast hingen zowel acceptatie als populariteit in de peergroep negatief samen met latere gedragsmatige betrokkenheid. Gedragsmatige betrokkenheid was niet voorspellend voor leerkracht-leerlingrelaties of peerstatus. Resultaten toonden aan dat relaties met leerkrachten en leeftijdsgenoten onafhankelijk van elkaar een belangrijke rol spelen in de ontwikkeling van gedragsmatige betrokkenheid van adolescenten.