01-02-2014 | Onderzoek | Uitgave 2/2014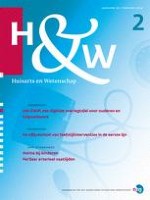 De effectiviteit van leefstijlinterventies in de eerste lijn
Tijdschrift:
Auteurs:

dr. Jeroen Lakerveld, dr. Sandra Bot, prof.dr. Giel Nijpels
Belangrijke opmerkingen
VUmc, EMGO Instituut, afdeling Huisartsgeneeskunde en Ouderengeneeskunde, Van der Boechorststraat 7, 1081 BT Amsterdam: dr. J. Lakerveld, senior onderzoeker; dr. S.D. Bot, senior onderzoeker; prof.dr. G. Nijpels, hoogleraar huisartsgeneeskunde met speciale aandacht voor diabeteszorg • Correspondeentie: j.lakerveld@vumc.nl • Mogelijke belangenverstrengeling: ZonMw heeft het Leefstijl Onderzoek West-Friesland gefinancierd.
Dit artikel is een bewerkte vertaling van: Lakerveld J, Bot SD, Chinapaw MJ, Van Tulder MW, Kostense PJ, Dekker JM, et al. Motivational interviewing and problem solving treatment to reduce type 2 diabetes and cardiovascular disease risk in real life: a randomized controlled trial. Int J Behav Nutr Phys Act 2013;10:47. Publicatie gebeurt met toestemming van de uitgever.
Samenvatting
Lakerveld J, Bot SD, Nijpels G. De effectiviteit van leefstijlinterventies in de eerste lijn. Huisarts Wet 2014;57(2):64-7.
Achtergrond
Uit gecontroleerd onderzoek is gebleken dat leefstijlinterventies effectief kunnen zijn in het kader van diabetespreventie. Of dezelfde resultaten ook in de eerste lijn haalbaar zijn, is onbekend. In het Leefstijl Onderzoek West-Friesland onderzochten we de (kosten)effectiviteit van interventies gericht op leefstijlveranderingen bij volwassenen met een verhoogd risico op diabetes mellitus type 2 (DM II) en hart- en vaatziekten (HVZ) in de huisartsenpraktijk.
Methode
We verdeelden 622 volwassenen met een risico van 10% of hoger op DM II en/of HVZ at random over een controle- en een interventiegroep, en volgden deze gedurende 24 maanden. De interventiegroep (n = 314) kreeg individuele counselinggesprekken op basis van
motivational interviewing
en
problem solving treatment
, uitgevoerd door praktijkondersteuners. De controlegroep (n = 308) kreeg alleen informatiebrochures. Uitkomstmaten waren het geschatte risico op DM II en HVZ (ARIC- en SCORE-risicoformules), lichamelijke activiteit, voeding en rookgedrag.
Resultaten
Aan de laatste meting namen 490 (79%) deelnemers deel. Op geen van de vervolgmetingen vonden we verschillen tussen de groepen wat betreft DM II- of HVZ-risico of leefstijl.
Conclusie
Zowel op de korte als de langere termijn maakte het voor het geschatte risico op DM II of HVZ en voor de leefstijl niet uit of de deelnemers het leefstijlprogramma kregen of alleen maar brochures. Verder onderzoek moet uitwijzen of leefstijlinterventies buiten de onderzoeksetting wel effectief kunnen zijn als deze behalve op individuele determinanten ook op omgevingsdeterminanten aangrijpen.