01-07-2017 | Beschouwing | Uitgave 6/2017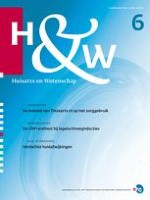 De CRP-sneltest bij lageluchtweginfecties
Tijdschrift:
Auteur:

Dr. Marloes Minnaard
Belangrijke opmerkingen
Dr. M.C. Minnaard, huisarts, destijds aiotho bij UMC Utrecht/Julius Centrum, Utrecht • Correspondentie: mc_minnaard@hotmail.com • Mogelijke belangenverstrengeling: niets aangegeven.
Samenvatting
Minnaard MC. De CRP-sneltest bij lageluchtweginfecties. Huisarts Wet 2017;60(6):268-72.
De NHG-Standaard Acuut Hoesten adviseert C-reactief proteïne (CRP) te gebruiken als aanvullend onderzoek bij patiënten bij wie diagnostische twijfel bestaat of zij een pneumonie hebben. In mijn proefschrift
Diagnosing pneumonia in primary care: implementation of C-reactive protein point-of-care testing in daily practice
richt ik mij op CRP in de huisartsenpraktijk. Ik heb op basis van gegevens van individuele patiënten uit verschillende diagnostische onderzoeken uit de eerste lijn een meta-analyse gedaan om de toegevoegde diagnostische waarde van CRP te bepalen. Hieruit blijkt dat de verschillen in discriminatie mét en zónder CRP klein zijn. Bij de beoordeling van de risicoclassificatie komt naar voren dat de groep patiënten bij wie diagnostische onzekerheid blijft bestaan (na bepaling van het CRP) groot blijft. Uit implementatieonderzoek in Nederlandse huisartspraktijken wordt duidelijk dat het CRP de beslissing om wel of juist geen antibiotica voor te schrijven beïnvloedt – onder de streep verandert het totale aantal antibioticavoorschriften echter niet. Een aanzienlijk deel van de huisartsen die hebben meegewerkt aan het onderzoek gebruikt de test bij een andere groep patiënten dan de standaard voorstelt.