01-04-2015 | Onderzoek | Uitgave 4/2015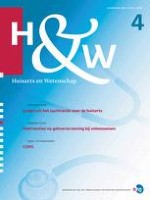 De communicatietoets en de context van het consult
Tijdschrift:
Auteur:

dr. Geurt Essers
Belangrijke opmerkingen
LUMC, afdeling Public Health en Eerstelijns Geneeskunde, Hippocratespad 21, 2333 ZD Leiden: dr. G. Essers, onderwijscoördinator Correspondentie: essers28@zonnet.nl Mogelijke belangenverstrengeling: niets aangegeven.
Deze beschouwing is een bewerking van twee artikelen: Essers G, Kramer A, Andriesse B, Van Weel C, Van der Vleuten C, Van Dulmen S. Context factors in general practitioner–patient encounters and their impact on assessing communication skills – an exploratory study. BMC Fam Pract 2013;14:65; Essers G, Van Dulmen S, Van Es J, Van Weel C, Van der Vleuten C, Kramer A. Context factors in consultations of general practitioner trainees and their impact on communication assessment in the authentic setting. Pat Educ Counseling 2013;93:567-72. Publicatie gebeurt met toestemming van de uitgevers.
Samenvatting
De communicatietoets en de context van het consult. Huisarts Wet 2015;58(4):186-90
.
Achtergrond
Communicatie is voor artsen een belangrijke competentie en de toetsing van communicatievaardigheden is een integraal onderdeel van de huisartsenopleiding. Die toetsing is echter vatbaar voor verbetering. In de huisartsgeneeskunde hecht men er veel waarde aan dat de arts klachten interpreteert binnen de context. De toetsing van arts-patiëntcommunicatie houdt echter geen rekening met de context waarin zij plaatsvindt. Wij gingen na hoe die context in de toetsing verdisconteerd kan worden.
Methode
Met een
mixed-method design
onderzochten we hoe de scores van huisartsen en aios op de MAAS-Globaal communicatietoets zouden veranderen wanneer men bij de scoring rekening zou houden met een aantal vooraf gedefinieerde contextfactoren. We bepaalden de scores van de deelnemers tweemaal: één keer de score op de standaardtoets en één keer de score op de toets waarin ook contextfactoren waren opgenomen.
Resultaten
In de consulten vonden we alle vooraf geïdentificeerde contextfactoren terug. Zowel voor de huisartsen als voor de aios steeg de gemiddelde score, al was het verschil bij de aios over het algemeen kleiner. De huisartsen scoorden op de contextgevoelige toets gemiddeld boven het vastgestelde niveau voor 'adequaat communicerend'.
Conclusie
Bij het toetsen van de arts-patiëntcommunicatie in de huisartsenopleiding moeten contextfactoren eerder als signaal dan als ruis worden opgevat. Het expliciet betrekken van contextfactoren in de toets maakt deze transparanter. Contextspecifieke toepassing van communicatievaardigheden verdient in de vervolgopleiding meer nadruk, zowel bij het onderwijs als bij de toetsing.