01-02-2011 | Uitgave 1/2011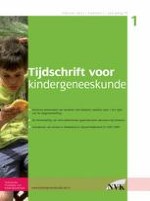 De behandeling van intra-abdominale appendiculaire abcessen bij kinderen
Van ubi pus, ibi evacua naar ubi pus, ibi antibiotica?
Tijdschrift:
Auteurs:

Dhr. drs. Ben Tomlow, dhr. dr. Han Boxma, dhr. dr. Carsten R. Lincke
Belangrijke opmerkingen
arts-assistent kindergeneeskunde
Samenvatting
De behandeling van een aan appendicitisgerelateerd intra-abdominaal abces bij kinderen bestaat in principe uit chirurgische of radiologische drainage. Dit is echter vaak technisch moeilijk uitvoerbaar en geassocieerd met morbiditeit. Op grond van literatuurgegevens en door de risico's van drainage af te wegen tegen de voordelen van conservatieve therapie behandelden wij zeven opeenvolgende kinderen met een appendiculair abces succesvol met breedspectrumantibiotica. Individueel zal steeds de keuze gemaakt moeten worden voor conservatieve behandeling dan wel chirurgische drainage, maar er tekent zich een trend af naar een conservatieve benadering. Het adagium ubi pus, ibi evacua kon in de door ons beschreven gevallen van een intra-abdominaal abces bij kinderen worden vervangen door de aanbeveling ubi pus, ibi antibiotica.
Summary
The treatment of an intra-abdominal abscess related to an appendicitis in children is primarily surgical or radiological drainage. However, this is often technically difficult to perform and associated with morbidity. According to the literature and comparing the risk of drainage against the benefits of conservative therapy we treated seven consecutive children successfully with an appendicular intra-abdominal abscess with broad spectrum antibiotics. Looking at every patient individually a choice must be made for either conservative treatment of surgical drainage, but a trend emerges towards a conservative approach. The maxim ubi pus, ibi evacua could be replaced in the above described cases of intra-abdominal abscesses in children by the recommendation ubi pus, ibi antibiotics.