12-11-2020 | Biomechanica en Bewegingsanalyse | Uitgave 4/2020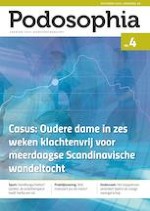 De afvlakking van de verticale schommeling van het lichaamszwaartepunt tijdens het gaan
Tijdschrift:
Auteur:

Chris Riezebos
Belangrijke opmerkingen
In deze rubriek worden algemene principes uit de biomechanica en bewegingsanalyse opgefrist en podotherapeutische toepassingen op toegankelijke wijze uiteengezet.
Samenvatting
Bij een zogenaamde 'steltgang' of 'passergang' (een theoretisch gangpatroon zonder knie- of enkelgewricht) zou het lichaamszwaartepunt tijdens het gaan een verticale schommeling vertonen van ca. 6 cm. In werkelijkheid bedraagt deze schommeling ongeveer 4 cm en is er dus sprake van een afvlakking van ca. 2 cm. Er zijn verschillende mechanismen in heup-, knie- en enkelgewricht beschreven waarmee deze afvlakking kan worden bereikt. Een kwantitatieve analyse laat echter zien dat sommige van deze veronderstelde 'afvlakmechanismen' op het 'verkeerde moment' tijdens de gangcyclus optreden. In principe zijn mensen in staat, door tijdens de
midstance
de knie ongeveer 40° te buigen, het lichaamszwaartepunt langs een zuiver horizontale lijn te bewegen, dus zonder verticale schommeling. Door de hierbij onvermijdelijk optredende grote momentsarm van de grondreactiekracht op de knie, is dit echter zeer vermoeiend en daarmee geen realistische optie. De plantairflexie van de voet in het enkelgewricht tijdens de afzet (in de bipedale fase) blijkt de gehele afvlakking van de baan van het lichaamszwaartepunt (2 cm) te kunnen verklaren. Het verdient aanbeveling bij patiënten die (onder meer) klagen over snel optredende vermoeidheid tijdens het gaan, de plantairflexiemogelijkheid van de enkelgewrichten nader te onderzoeken.