01-08-2007 | Original Paper | Uitgave 6/2007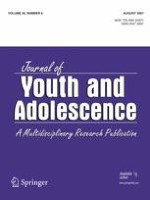 Dating Violence & Sexual Harassment Across the Bully-Victim Continuum Among Middle and High School Students
Tijdschrift:
Auteurs:

Dorothy L. Espelage, Melissa K. Holt
Belangrijke opmerkingen
Associate Professor, Department of Educational Psychology, University of Illinois at Urbana-Champaign, Champaign, IL. Research interests include youth aggression, victimization, childhood sexual abuse, and eating disorders.
Melissa K. Holt, Research Scientist, Family Research Laboratory, University of New Hampshire, Durham, NH. Research interests include multiple victimization experiences, childhood sexual abuse, and contextual influences of victimization. Crimes Against Children
Abstract
Associations among bullying, peer victimization, sexual harassment, and dating violence were examined among 684 middle and high school students. Cluster analysis of self-report measures revealed four distinct bully-victim subtypes: uninvolved, victims, bully-victims, and bullies. African-American students comprised the bully cluster more than White students, but did not report higher rates of dating violence or peer sexual harassment. Bully-victims reported significantly more physical dating violence victimization than members of all other groups, and more emotional abuse in dating relationships than uninvolved students and victims. Bully-victims and victims also reported the highest amount of peer sexual harassment. Anxiety/depression levels were highest among victims and bully-victims. Sexual harassment and dating violence experiences moderated the association between bully-victim subtype and anxiety/depression. That is, victims with the highest levels of sexual harassment and victims and bully-victims with the highest levels of dating violence reported the highest levels of anxiety/depression. Findings highlight the high-risk nature of the bully-victim group and the importance of assessing multiple forms of victimization affecting youth.