01-05-2007 | Original Paper | Uitgave 4/2007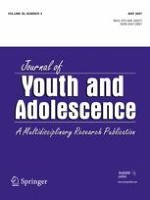 Cultural Orientation as a Protective Factor Against Tobacco and Marijuana Smoking for African American Young Women
Tijdschrift:
Auteurs:

Aashir Nasim, Rosalie Corona, Faye Belgrave, Shawn O. Utsey, Niloofar Fallah
Belangrijke opmerkingen
Associate Professor in the Department of Psychology, James Madison University, Harrisonburg, VA. Dr. Nasim also serves as affiliate research professor in the Center for Cultural Experiences in Prevention (CCEP), Department of Psychology, Virginia Commonwealth University, Richmond, VA. He received his Ph.D. in Developmental Psychology from Howard University, Washington, DC. His primary research interests focus on the etiology of substance use behaviors among African Americans
Professor of Psychology at Virginia Commonwealth University, and Director of the Center for Cultural Experiences in Prevention (CCEP). She received her Ph.D. from the University of Maryland. Her research and programmatic efforts focus on the role of culture, community, and context in psychological, physical, and social outcomes among African Americans
Assistant Professor at Virginia Commonwealth University. She received her Ph.D. in Clinical Psychology from the University of California, Los Angeles. Her major research interests focus on minority youth adjustment, adolescent sexual health, and families affected by HIV/AIDS.
Associate Professor at Virginia Commonwealth University in the Department of Psychology. He received his Ph.D. in Counseling Psychology from Fordham University. His research interest is in the area of African American culture and mental health.
Institute for Innovative Health & Human Services at James Madison University. She received her B.S. in Psychology from James Madison University. Her research focuses on school-based interventions for adolescents.
Abstract
The present study examined cultural orientation as a protective factor against tobacco and marijuana smoking for African American young women (ages 18 to 25). African American college students (
N
=145) from a predominantly White university were administered subscales from the African American Acculturation Scale-Revised (AAAS-R); the shortened Individualism/Collectivism (INDCOL) Scale; a Tobacco and Drug Use Survey; and a background survey. Multiple logistic regression was conducted using cultural orientation variables as predictors and smoking status (i.e., tobacco and marijuana) as the criterion. It was expected that young women who endorsed traditional African American cultural characteristics (i.e., religious beliefs, health, family values, and socialization) and were collectivistic in their community (i.e., cultural interdependency) and familial (i.e., familial interdependency) interactions would be less likely to smoke. Results show that traditional religious beliefs and practice was protective against tobacco smoking for this sample of young women. Familial interdependency (e.g., supportive exchanges between friends, and consultation and sharing with parents), and traditional religious beliefs and practices surfaced as protective factors against marijuana smoking. Traditional health beliefs and practices was a risk factor for both tobacco and marijuana smoking. The implications signal the need for smoking prevention and cessation programs to focus on interpersonal factors which may strengthen African American young women's religious and familial bonding.