Gepubliceerd in: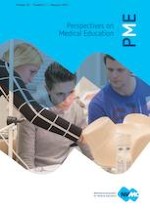 Open Access 14-12-2020 | Correction
Correction to: perspectives on medical education meta-research special issue: a call for papers exploring how research is performed, communicated, verified and rewarded
Gepubliceerd in: Perspectives on Medical Education | Uitgave 1/2021
The views expressed in this article are those of the authors and do not necessarily reflect the official policy or position of the Uniformed Services University of the Health Science, the U.S. Department of Defense, or the U.S. Government.
The original version of this article unfortunately contained a mistake. References [
1
,
2
] and [
4
] were incorrect. The corrected references are given below. The original article has been corrected.
Open Access
This article is licensed under a Creative Commons Attribution 4.0 International License, which permits use, sharing, adaptation, distribution and reproduction in any medium or format, as long as you give appropriate credit to the original author(s) and the source, provide a link to the Creative Commons licence, and indicate if changes were made. The images or other third party material in this article are included in the article's Creative Commons licence, unless indicated otherwise in a credit line to the material. If material is not included in the article's Creative Commons licence and your intended use is not permitted by statutory regulation or exceeds the permitted use, you will need to obtain permission directly from the copyright holder. To view a copy of this licence, visit
http://​creativecommons.​org/​licenses/​by/​4.​0/​
.