09-08-2015 | Uitgave 2/2016 Open Access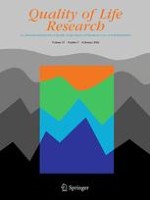 Correcting bias in self-rated quality of life: an application of anchoring vignettes and ordinal regression models to better understand QoL differences across commuting modes
Tijdschrift:
Auteurs:

Melanie Crane, Chris Rissel, Stephen Greaves, Klaus Gebel
Introduction
With this in mind, the two primary purposes of this paper were to (1) examine scale perception bias in two single-item QoL questions: overall QoL and health satisfaction; and (2) model the relationship between commuting travel mode and QoL in the STAHS using nonparametric and parametric multilevel ordinal logistic regressions to adjust for these biases.
Method
Data sample
Cross-sectional baseline STAHS data were collected between September and October 2013 through an online survey. Respondents were recruited to the survey through multiple channels including random dial digit telephone calls to local residents, online panels, and community advertising. Consent was obtained as the respondent entered the survey web platform. Respondents were eligible if they lived within 5 km of the city centre (and exposed to a number of transport options), were aged 18–55 years, and had sufficient English to complete the survey. As part of a wider longitudinal study design, respondents had to have ridden a bicycle in their life and have no current disability preventing them from riding. A total sample of 846 responses was collected.
Measures
Quality of life
QoL was measured using the abbreviated World Health Organization quality-of-life assessment (WHOQOL-BREF). Two umbrella items measured overall QoL and health satisfaction; '
How would you rate your quality of life?
' ('very poor', 'poor', 'neither good nor poor', 'good', and 'very good') and
'How satisfied are you with your health?
' ('very dissatisfied', 'dissatisfied', 'neither dissatisfied nor satisfied', 'satisfied', and 'very satisfied'). In addition, 24 items covered four specific domains: physical health, psychological health, and social and environmental facets of QoL. The WHOQOL-BREF was developed as a cross-cultural QoL instrument for use in the general population and has been validated in the Australian population [
35
].
Travel behaviour
To determine the association between QoL and commuting travel modes, participants were asked about their main mode of travel to work or study (public transport, motor vehicle, bicycle, or by foot). Bicycle travel was treated as the reference category.
Demographic and socio-economic factors
Demographic correlates with potential variation in reporting behaviour included sex and age (continuous). Education was dichotomised into tertiary or less than tertiary level. Annual household income was categorised in intervals from less than $20,000 to over $140,000 and dichotomised at AU$80,000+ or less [
36
]. Variables were dichotomised because of concerns about multiple categories reducing statistical power.
Anchoring vignettes
A series of three vignettes were included to detect variations in QoL rating due to scale perception bias. The vignettes were of varying levels of general health of a hypothetical person called 'Jo', who respondents were to assume was of the same age as them (Fig.
1
). Respondents were asked to rate the health status of Jo in each of the three scenarios. The survey then asked respondents to rate their own health and overall QoL using the same response scales. The way the respondents rated the three vignettes was then used to determine the thresholds they had applied to the self-rated question. The vignettes were based on Grol-Prokopczyk et al. [
19
]. The most severe scenario used by Grol-Prokopczyk and colleagues produced a floor effect in their healthy general population and was omitted from this current study. Unlike the study by Grol-Prokopczyk et al., in the present study, the vignettes were applied to the whole sample for nonparametric analysis. We hypothesised that while overall QoL and health satisfaction responses would differ, the same reporting behaviour was likely to exist across both QoL variables and that while overall QoL is broader than the physical health dimension, it would closely align.
×
The application of anchoring vignettes relies on two assumptions [
8
]. The first is the assumption of response consistency, that is, individuals will use the vignette response categories in the same way as they would when rating their own QoL. The second assumption is that of vignette equivalence, which requires that all respondents comprehend the vignette in the same way. In the case of these vignettes, vignette 1 should be understood by all respondents as a better level of health than vignette 2, followed by vignette 3. Any inconsistency in the rank order violates this assumption. There is however two different ways a response would be considered inconsistent. If someone rated the worst level of health [vignette 3] better than the other two vignettes, this shows that the respondent did not understand, or chose not to understand the question. However, some inconsistencies may occur due to the respondent genuinely perceiving two vignettes to be of the same level. These tied responses were included as appropriate, given the possibility that health states may be considered 'equally good' or 'equally poor', and provided they were otherwise consistent in rank order.
The vignettes were piloted to test transferability to an Australian population and confirm comprehension and face validity (
n
= 38). The vignettes performed as expected with respondents correctly ordering vignettes 1–3. No respondent misunderstood the intended order. Two respondents perceived V1 and V2 to be the same level of health, and one respondent perceived V2 and V3 to be the same level of health.
Analysis
Data analysis was conducted as follows: data assumptions were tested; differences in reporting behaviours were then investigated; and then associations between QoL and transport modes were modelled using the two corrected approaches and compared with standard ordinal logistic regression analysis.
The distributions of the QoL and vignette variables were examined. The two lowest QoL categories (i.e. very poor and poor) were collapsed. The correlation between overall QoL and health satisfaction and WHOQOL physical health domain variables was tested (Spearman's rho). The underlying assumptions of the vignettes were then evaluated. Lacking an objective measure of QoL, we investigated consistency across the three vignettes within the intended order. We also hypothesised that self-reported responses would be more likely to positively correlate with vignette 1 than vignette 3, and tested these correlations. We then tested the vignette equivalence according to the pattern where V1 ≥ V2 ≥ V3 and removed cases where this order was violated.
To illustrate scale perception bias, the rating of each vignette was compared between demographic groups (
χ
2
). As the vignettes are fixed levels, there should be no difference between groups. For example, both men and women should rate the vignette in the same way. Significant associations (
p
< 0.05) would suggest different reporting behaviour between demographic groups. Income and education variables were also tested in their un-collapsed categories. The interaction between the QoL and demographic variables was then modelled using ordinal logistic regression.
Finally, the association between QoL and transport modes was analysed in three ways. A standard ordinal regression model was constructed, which adjusted for age, sex, income, and education. We called this the unadjusted model to differentiate it from the models correcting for scale perception bias. Secondly, scale biases were then corrected using the nonparametric approach described by King and Wand [
27
]. The QoL variables (overall QoL, health satisfaction) were rescaled according to the thresholds used by the respondent to rate the vignettes. The new QoL variables contained seven categories (based on the number of vignettes 2V + 1). If the self-rated response
X
was greater than the levels described by the vignettes, such that
X
> V1 > V2 > V3, then the new self-response Q was designated the highest category, seven and so forth (see Table
1
for full details). Where vignettes ratings were tied, for example
X
> V1 > V2 = V3, where V2 and V3 were given equal weighting, then more than one category would be valid. To deal with these inconsistencies, tied responses were designated the mean category of all possible categories that would apply for the given response. Inconsistent responses which violated vignette assumptions were excluded (
n
= 12). The rescaled variable was then analysed in the same way as the standard model.
Table 1
Nonparametric rescaling of quality-of-life (QoL) variables through the use of anchoring vignettes
| Observed order | Consistent with expected order | New variable Q possible responses |
| --- | --- | --- |
| | Ordered | 7 |
| | Ordered | 6 |
| | Ordered | 5 |
| | Ordered | 4 |
| | Ordered | 3 |
| | Ordered | 2 |
| | Ordered | 1 |
| | Tied | 7 |
| | Tied | 7 |
| | Tied | 7 |
| | Tied | 6 |
| | Tied | 3, 4, 5, 6 |
| | Tied | 2, 3, 4, 5, 6 |
| | Tied | 3, 4, 5 |
| | Tied | 2, 3, 4 |
| | Tied | 3 |
| | Tied | 2 |
| | Tied | 1 |
| | Tied | 1 |
| | Tied | 1 |
In the final parametric model, the observed QoL response was allowed to vary according to the thresholds the respondent used, and individual thresholds are treated as a function of the covariates (as determined by the vignette anchor points). We first applied a hierarchical ordinal probit model in Stata using the gllamm function according to the example provided by Rabe-Hesketh and Skrondal [
37
]. We then applied a cumulative logit link. Logit models are more useful in explaining health outcomes and, unlike probit models, can be interpreted with odds ratios. The models' fit was then compared using Akaike information criteria (AIC) [
38
] and Bayesian information criteria (BIC) [
39
], where the smallest criterion represents the model with the smallest information loss. As the models were non-nested and the complex design of the parametric model relied on transformed data, differentiating it from the previous models, the criterion information was weighted to the sample to reduce penalising the parametric model [
40
].
In each model, linearity of age was tested and confirmed as appropriate. Interaction terms were tested and effect modification rejected. For each model, the proportional log odds assumptions for ordinal logistic regression were tested, and no violation was observed. For missing income data (9 %) it was assumed a full-time student, unemployed, welfare recipient, or homemaker was less likely to be in the high bracket income. Otherwise, missing demographic data (missing income
n
= 3; education
n
= 6) were excluded, and only unique data retained. All statistical analyses were conducted using Stata version 13 (StataCorp LP, College Station, TX).
Results
The sample characteristics for the STAHS data are given in Table
1
. In this sample of inner-city residents, the main mode of travel commuters take to work or study is by public transport (39.2 %) followed by motor vehicle (23.4 %), foot (19.9 %), and bicycle (13.3 %) (Table
2
).
Table 2
Characteristics of the Sydney Travel and Health Study cohort, Australia, and differences in scale rating across three vignettes
Vignette 1

Vignette 2

Vignette 3

Sex

Male

352

41.6

0.001

0.001

0.4

Female

494

58.4

Age

Mean (SD)

37.2 (11.1)

18–34 years

363

42.9

0.5

0.2

0.02

35–55 years

483

57.1

Income

Less than $80,000

336

39.9

0.7

0.5

0.08

$80,000 or more

506

60.1

Education

Less than tertiary

255

30.4

0.9

0.7

0.2

Tertiary education

585

69.6

Main mode of travel to work or study

Public transit

332

39.2

Car

198

23.4

Walk

168

19.9

Bicycle

113

13.4

No travel

35

4.1
Quality of life and vignette validity
The mean (SD) and distribution of responses for overall QoL and health satisfaction are given in Table
3
. Overall QoL was skewed heavily towards the higher thresholds, while health satisfaction was more normally distributed broadly in line with a priori expectations [
41
]. The correlation between overall QoL and self-rated health satisfaction (rs = 0.55) and physical health (rs = 0.51) was satisfactory.
Table 3
Distribution of QoL responses to anchoring vignettes in a sample of residents in Sydney, Australia (
n
= 846)
The distribution of responses across response categories and mean values of the vignettes are also given in Table
3
. As hypothesised, responses to vignette 1 were skewed towards the higher thresholds of the scale, while vignette 2 was distributed in the mid-point of the scale, and vignette 3 responses were skewed towards the lowest thresholds. The majority of responses (86 %) met vignette equivalence assumptions. Few respondents rated vignettes 1 and 2, or 2 and 3 on equal ranking (tied responses 12.6 %) and were retained. Only 1.4 % of vignette ratings was inconsistent and did not meet vignette equivalence, and these were removed from the analyses.
Evidence of scale perception bias
In Table
2
, the differences in reporting behaviour across the demographic groupings are presented for each vignette. If there was no scale bias, we would expect no association. The results suggest there is statistically significant difference in the way male and female respondents rated the higher health vignettes. No difference was observed between sexes in the way they rated the lowest level of health (vignette 3). This would suggest reporting differences on the higher end of the health continuum, where the majority of participants rate their QoL, and greater concordance between sexes on what is considered poorer health. Differences were also observed between how younger and older adults (binary age groups presented for illustration) rated the lower level of health. While respondents were asked to rate the vignettes based on someone their own age, this would suggest that the way different age groups rate poorer health differed. No reporting differences were observed according to income and education groupings.
The association between travel mode and QoL
The relationship between commuting mode to work or study and quality of life is given in Table
4
. All models also adjusted for the fixed effect of age, sex, income, and education. The standard unadjusted model suggests that public transport users were 2.08 times less likely to report high QoL than bicycle commuters (cumulative OR = 0.60, 95 % CI 0.39–0.93). In this model, no statistically significant differences were observed between cyclist and motor vehicle or walking mode users. However, after adjusting for scale response bias, motor vehicle users (0.47, 0.25–0.86), walkers (0.44, 0.24–0.82), and public transport users (0.37, 0.21–0.65), all had lower odds of reporting high QoL compared with bicycle commuters (parametric results).
Table 4
Ordinal logistic regression analysis of the association between QoL variables and commuting travel comparison between models unadjusted and adjusted for scale bias (
n
= 791)
In terms of health satisfaction, the odds of reporting a high health satisfaction in the unadjusted model were lower for motor vehicle and public transport users compared with bicycle commuters. After adjusting for scale perception bias, the odds of reporting high health satisfaction were found to be proportionally lower amongst all competing travel modes: public transport users (0.34, 0.20–0.57), motor vehicle users (0.31, 0.18–0.56), and walkers (0.35, 0.20–0.64) when compared with cyclists (parametric results).
Comparison of regression models
The results of the rescaled nonparametric and the multilevel parametric regression analyses in Table
4
show similar findings despite some variations in the size of the coefficient and odds ratios (OR). Comparison of the loss of information in each model using the simplified weighted information criterions suggests a slightly better fit can be found in the parametric model over the transformed model in both the overall QoL and health satisfaction variables. The fit of the standard model while interesting to compare with the transformed variables is of course irrelevant if, as has been shown, the model is distorted by scale perception bias.
Discussion
This study sought to adjust for the presence of scale perception bias in the self-rating of QoL in a sample of Australian city dwellers in order to appropriately analyse the relationship between commuting mode and QoL. Simple nonparametric rescaling of the data and parametric multilevel modelling was used to detect and adjust for differences in the rating behaviour across demographic groups. The vignettes were used to create fixed thresholds to compare findings. Application of the vignette methodology to the association between travel mode and QoL revealed some interesting findings that were not detected through conventional modelling. Using anchoring vignettes, we were able to detect significant differences in the overall QoL and health satisfaction between bicycle commuters and those who commuted by foot, motor vehicle, and public transport modes.
The QoL variables used in this analysis were taken from the two umbrella items in the WHOQOL-BREF. We tested the ability to use levels of health as vignette equivalences for health satisfaction and overall QoL in the assumption that scale perception bias for overall QoL could likewise be identified through the anchoring of responses to health specific scenarios. To confirm this, the correlation relationship between the single-item overall QoL and health satisfaction variables and health domains of the WHOQOL-BREF were tested.
The WHOQOL-BREF is designed for cross-country population use. While the content of the WHOQOL-BREF may be cross-culturally valid, differences in the interpretation of scales across populations are still likely to influence results, as observed in this study. The use of appropriate vignettes would address this limitation in the ability to compare findings across population groups.
The STAHS sample used in this analysis is a small sample of Australian inner-city residents. The sample was highly educated and as such not representative of the larger population. The sample was useful for this analysis because respondents were exposed to a number of public transport options and were included if they had ever ridden a bicycle. Thus, their choice of transport was not necessarily inhibited in ways other communities with lower access to transport options may be. This enabled us to investigate the association between QoL and a range of transport choices, their level of QoL may however be unrepresentative of the wider population.
Conclusion
We found that anchoring vignettes were useful in detecting and correcting scale perception bias and reporting differences in two commonly used quality-of-life measures. Use of the vignettes improved the accuracy of the analyses and revealed important associations between travel mode and quality of life. After correcting for scale perception bias commuters who travelled by bicycle reporting higher quality-of-life scores than all other travel modes. Anchoring vignettes might be a powerful tool for improving the validity and interpersonal comparability of Likert-scale items in health research such as quality of life.
Compliance with ethics standards
Funding
The research reported here was funded through an ARC-Linkage grant with partners comprising Transport for NSW, Australian Heart Foundation, NSW Health, Premiers Council for Active Living, and the City of Sydney. LP120200237.
Conflict of interest
Authors declare no conflict of interest.
Ethical approval
All procedures performed in studies involving human participants were in accordance with the ethical standards of the University of Sydney Human Ethics Committee.
Informed consent
Informed consent was obtained from all individual participants included in the study.
Open Access
This article is distributed under the terms of the Creative Commons Attribution 4.0 International License (
http://​creativecommons.​org/​licenses/​by/​4.​0/​
), which permits unrestricted use, distribution, and reproduction in any medium, provided you give appropriate credit to the original author(s) and the source, provide a link to the Creative Commons license, and indicate if changes were made.