2013 | OriginalPaper | Hoofdstuk
22. Coronary Blood Flow and Myocardial Ischemia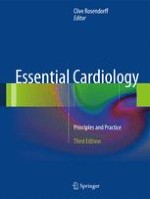 eerste hoofdstuk lezen
Auteurs: PhD Brian R. Weil, MD John M. Canty Jr.
Uitgeverij: Springer New York
Abstract
This chapter reviews coronary flow regulation in normal and pathophysiological states. Under normal conditions, the heart maximally extracts oxygen and as a result, increases in oxygen demand are met by proportionate increases in coronary blood flow. Mechanisms responsible for the regulation of coronary resistance in the microcirculation include metabolic, myogenic, and flow-dependent resistance vessel control. There is substantial vasodilator reserve in the normal heart such that, in the presence of an epicardial coronary stenosis, local vasodilation decreases vascular resistance and autoregulates flow at the normal level as coronary pressure falls. As stenosis severity increases, however, flow reserve is exhausted and the subendocardium becomes vulnerable to reversible ischemia during increased myocardial oxygen demands. When ischemia is severe and prolonged following a total coronary occlusion, irreversible myocyte injury develops leading to a wave front of myocardial necrosis that extends from subendocardium to subepicardium. When ischemia is brief (as in angina), myocardial function remains depressed after flow normalizes indicative of myocardial stunning. Repetitive reversible ischemia leads to persistent dysfunction followed by intrinsic adaptive responses characteristic of hibernating myocardium. These protect the heart from irreversible injury and acute stunning at the expense of producing chronically depressed but reversible contractile dysfunction. A thorough understanding of coronary physiology and myocardial ischemia is essential in the management of patients with coronary artery disease.