15-09-2020 | Empirical Research | Uitgave 11/2020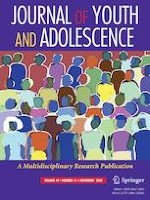 Conflict Resolution and Emotional Expression in Mother-Preadolescent Dyads: Longitudinal Associations with Children's Socioemotional Development
Tijdschrift:
Auteurs:

Saskia J. Ferrar, Dale M. Stack, Daniel J. Dickson, Lisa A. Serbin
Belangrijke opmerkingen
Publisher's note
Springer Nature remains neutral with regard to jurisdictional claims in published maps and institutional affiliations.
Abstract
How youth learn to manage emotions during mother–child conflict influences their socioemotional development. Ninety-four mother-preadolescent (aged 9–13, 57.4% female) dyads were observed during conflict discussions and completed questionnaire measures at one prior time-point (Time 1; ages 6–10) and one subsequent time-point (Time 3; ages 11–16) to the observations (Time 2). The temporal associations between individuals' emotional expressions and their own and their partners' verbal conflict behaviors were observed. Mothers and preadolescents were more attacking and assertive when angry, and more conciliatory and avoidant when sad. Neutral affect predicted the most constructive behaviors, while positive affect promoted avoidance. The responses were similar following their partners' emotions. Maternal conflict-escalating responses to anger were associated with difficult characteristics in earlier childhood and socioemotional difficulties in adolescence. Maternal and child de-escalation following sadness predicted socioemotional adjustment in adolescence. These results demonstrate that conflict resolution between preadolescents and their mothers is influenced by the emotional climate of the interaction, and that the management of negative emotions within the dyad is tied to youth's socioemotional development.