01-06-2011 | Uitgave 2/2011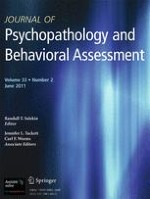 Confirmatory Analyses of the School Refusal Assessment Scale-Revised: Replication and Extension to a Truancy Sample
Auteurs:

Courtney Haight, Christopher A. Kearney, Marisa Hendron, Rachel Schafer
Abstract
School absenteeism and school refusal behavior are prevalent and serious issues for youth, but few measures have been developed specifically for this population. The School Refusal Assessment Scale-Revised (child and parent versions) provides clinicians with a profile of the relative strength of four functions or maintaining variables regarding school refusal behavior. The scales have been previously tested largely on clinical samples in outpatient treatment settings, however. This study examined 216 youth with primary school refusal behavior and their parent/guardian referred to a community-based truancy court or truancy diversion setting for problematic absenteeism. The four-factor structure of the scales (Kearney Journal of Psychopathology and Behavioral Assessment 24:235–245,
2002a
; Journal of Psychopathology and Behavioral Assessment 28:139–144,
2006
) was supported via confirmatory factor analysis and specific functions were associated with specific symptom sets as predicted. The results help extend the generalizability of the scales to youths and their families who are more ethnically diverse and referred to a legal process.