01-04-2015 | Uitgave 4/2015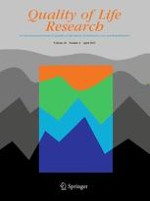 Comparison of EQ-5D and SF-6D utilities in Pompe disease
Tijdschrift:
Auteurs:

T. A. Kanters, W. K. Redekop, M. E. Kruijshaar, A. T. van der Ploeg, M. P. M. H. Rutten-van Mölken, L. Hakkaart
Abstract
Purpose
Comparative studies between Euroqol-5D (EQ-5D) and ShortForm 6D (SF-6D) utilities have been performed for a number of diseases, but not yet for orphan diseases. Pompe disease is an orphan disease with a prevalence of <5/10,000, characterized by impaired ambulatory and pulmonary functioning. We compared the psychometric properties of EQ-5D and SF-6D in patients with this disease and assessed their convergent validity, discriminative ability and sensitivity to change.
Methods
EQ-5D utilities and SF-6D utilities were computed using the UK value set. Dimensions and utilities of the two instruments were compared by correlation coefficients and descriptive statistics. We assessed whether EQ-5D and SF-6D were able to discriminate between different levels of severity and examined sensitivity to change for patients with multiple observations.
Results
Correlations between theoretically related dimensions of the EQ-5D and SF-6D were highly significant and were moderate to strong (range rho = 0.409–0.564). Utility values derived from the two instruments were similar (mean EQ-5D = 0.670; mean SF-6D = 0.699) and correlated strongly (rho = 0.591). Discriminative properties were somewhat better for EQ-5D; mean changes and effect sizes were better for SF-6D.
Conclusions
Overall, we conclude that both instruments appear to be equally appropriate with respect to assessing utilities in Pompe disease, but neither of them performed excellently. The descriptive system of the SF-6D describes health states for Pompe disease more accurately. EQ-5D showed better discriminative properties. The SF-6D performed better with respect to sensitivity to change.