01-06-2015 | Uitgave 6/2015 Open Access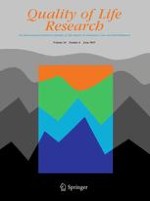 Comparing responsiveness of the EQ-5D-5L, EQ-5D-3L and EQ VAS in stroke patients
Tijdschrift:
Auteurs:

Dominik Golicki, Maciej Niewada, Anna Karlińska, Julia Buczek, Adam Kobayashi, M. F. Janssen, A. Simon Pickard
Introduction
The EQ-5D is a standardized preference-based measure of health that provides a simple, generic measure for clinical and economic assessment [
1
,
2
]. Its classical, three-level version (now called EQ-5D-3L) is successfully used as a secondary outcome in contemporary stroke trials [
3
]. A 5-level version of the EQ-5D (EQ-5D-5L) was developed with the goal of improving the sensitivity and other psychometric properties of the original EQ-5D-3L [
4
,
5
].
Janssen and colleagues, in a cross-sectional multi-country study, reported evidence of the feasibility and validity of the EQ-5D-5L in a variety of conditions, showing a low level of missing values, establishing known-groups validity and showing improved discriminatory power and improved convergent validity in comparison with EQ-5D-3L [
6
]. In the context of two studied populations with stroke (from UK and from Poland), a 15 % relative reduction in the ceiling was shown, as well as a valid redistribution and the highest number of different health states defined by the questionnaire, in comparison with other patients groups. Additional studies have been conducted in Germany, Italy, China, South Korea and Singapore that also support the validity of the EQ-5D-5L [
7
–
11
]. However, there is a scarcity of studies that have examined the longitudinal construct validity (i.e., responsiveness to change) of the EQ-5D-5L.
Responsiveness is the ability of an outcome instrument to detect clinically important changes within individuals with a specific condition [
12
]. It is evaluated in longitudinal studies of patients, in whom a change is expected to occur. In general, disease-specific instruments are more responsive than generic health status measures, as they are more focused on problems of particular importance to target patients. Although we have some knowledge about cross-sectional validity of EQ-5D-5L in stroke patients [
6
], we know very little about its responsiveness in stroke population.
Our objective was to evaluate the responsiveness of the EQ-5D-5L in a longitudinal study of patients with stroke. The secondary objective was to compare responsiveness of EQ-5D-5L index and other generic measures of health-related quality of life (HRQoL), often used in patients with stroke—EQ-5D-3L and EQ VAS.
Methods
Results
Discussion
In the present study, the EQ-5D-5L showed appropriate responsiveness in patients about 4 months after stroke, as confirmed by using several indices—ES, SRM,
F-
statistic, RE and area under the ROC curve. We noticed moderate ESs and moderate to large SRMs. Nevertheless, in our sample of stroke patients, EQ-5D-3L index appeared to be more responsive than EQ-5D-5L index scored according to crosswalk approach. Contrary, EQ VAS showed to function worse in the studied context.
The finding that in stroke patients EQ-5D-5L appears to be less responsive than EQ-5D-3L may be seen unexpected, as five-level version was developed with the goal of improving psychometric properties of the three-level EQ-5D. It should be viewed in terms of limitations of the value set we used. An important limitation of the current study was reliance on an interim EQ-5D-5L value set derived from a crosswalk algorithm [
20
]. Index scores based on mapping functions are less reliable than scores from value sets based on preferences directly elicited from representative general population samples. In other study, we found that the Polish interim EQ-5D-5L value set generated values to some extent more narrow, than those generated by the EQ-5D-3L time trade-off value set. There were relatively less health states valued 'worse than death' or as a good health and, at the same time, relatively more health states valued moderately [
20
]. Moving from 'bad health' to 'good health' resulted in a smaller change in the EQ-5D-5L index value based on crosswalk methodology than in the directly measured EQ-5D-3L index value. Although many approaches were explored by the EuroQol research team that published the crosswalk algorithm [
19
], it should be considered second best to direct utility measurement. At the moment, directly measured value sets for EQ-5D-5L are under development [
33
,
34
]. EQ-5D-5L responsiveness properties should be revisited when these sets become available.
There is no 'gold standard,' i.e., which measure is superior in establishing whether a relevant or significant change in HRQoL of stroke patients has occurred. The use of multiple clinical anchor-based criteria of change is advised. In the present study, we identified patients with improvement or worsening based on a general disability measure—mRS and a physical performance based measure—BI. It can be argued that the use of a different HRQoL measure as an anchor may give more reliable results, but both mRS and BI are recognized as the most often used standard of stroke outcome measurement [
3
] and were successfully used in studies of responsiveness of preference-based generic HRQoL measures in stroke [
35
].
Responsiveness of studied instruments was higher when external criterion was based on BI, rather than mRS. It can be that the studied indices are closely correlated with BI or that our mRS measurement had limited reliability. The mRS is the preferred measure of disability in stroke trials, but its value is restricted by potentially significant interobserver variability [
36
,
37
]. Several attempts were made to reduce the bias between mRS raters, such as introduction of a structured interview, video-based training and certification, but effects have not been consistent [
38
]. Another explanation could be that we allowed the use of proxies, in case of aphasia or dementia. In our study, surveys performed in this way constituted less than 20 % during the first survey and less than 10 % at follow-up. Some authors reported that patient's assessment of HRQoL has a stronger association with mRS, while proxy responses have a stronger association with BI [
39
].
Contrary to other authors, we made no differentiation between some and large improvement, as there were only some patients with a shift of two or more levels in mRS [
35
]. We also did not exclude patients who deteriorated. Final numbers of patients with deterioration, according to mRS and BI external anchors, were low (19 and 15, respectively), posing a question about validity and generalizability of results obtained in these groups.
To our best knowledge, this is the first study of EQ-5D-5L responsiveness in patients with stroke. The three-level version of EQ-5D was investigated in this context, twice. Hunger and colleagues showed reasonable validity, reliability and more limited responsiveness of a sample of German patients with a history of stroke, mild to moderate limitations of functional status, undergoing neurological rehabilitation [
17
]. Observed ESs were lower than estimated by Pickard et al. [
35
] and in our study. A possible explanation is that patients in the German study were included later after the stroke onset (median 5.7 weeks) and characterized with better functional status. As noticed by Pickard et al., the EQ-5D index is highly responsive in conditions where extreme health problems are encountered initially and subsequently improve. EQ-5D, with five dimensions and three levels, was as efficient in capturing changes as SF-6D, with six dimensions and four to six levels and Health Utility Index-3 (HUI3), with eight dimensions and five or six levels [
35
].
Our study is one of the first to examine the responsiveness of the EQ-5D-5L. Up till now, this topic was investigated only in women with breast cancer [
11
] and patients undergoing colonoscopy [
40
]. Swan and colleagues stated that EQ-5D-5L is unresponsive in colonoscopy patients, with the SRM and the ES moderately positive and a significant baseline to post-procedure change in the direction unexpected by authors. In contrast, Lee and coauthors, assessing EQ-5D-5L responsiveness in breast cancer patients, found it reasonably responsive with ES = 0.52 and 0.69, when external criterion was based on self-assessed performance status or self-rated change in quality of life, respectively.
Future studies of the EQ-5D-5L in stroke patients should, also, provide an in-depth look at its validity and reliability, especially in the context of test–retest reliability.
We conclude that the EQ-5D-5L index, based on the crosswalk value set, seems to be appropriately responsive in patients with stroke, 4 months after disease onset. As far as EQ-5D-5L index is scored according to crosswalk approach, the EQ-5D-3L index appears to be more responsive in stroke population.
Acknowledgments
This research was supported in part by the EuroQol Group.
Conflict of interest
Three authors disclose that they are members of the EuroQol Group, a not-for-profit organization that develops and distributes instruments that assess and value health.
Open Access
This article is distributed under the terms of the Creative Commons Attribution License which permits any use, distribution, and reproduction in any medium, provided the original author(s) and the source are credited.