01-09-2016 | Onderzoek | Uitgave 9/2016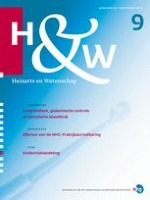 Comorbiditeit, glykemische controle en systolische bloeddruk
Een cohortonderzoek bij diabetespatiënten
Tijdschrift:
Auteurs:

Dr. Hilde Luijks, Dr. Marion Biermans, Hans Bor, Prof. Dr. Chris van Weel, Prof. Dr. Toine Lagro-Janssen, Dr. Wim de Grauw, Dr. Tjard Schermer
Belangrijke opmerkingen
Radboudumc, afdeling Eerstelijns Geneeskunde, Postbus 9101, 6500 HB Nijmegen: dr. H.D.P. Luijks, huisarts; dr. M.C.J. Biermans, epidemioloog; H.H.J. Bor, statisticus; prof.dr. C. van Weel, huisarts, emeritus hoogleraar huisartsgeneeskunde; prof.dr. A.L.M. Lagro-Janssen, huisarts, emeritus hoogleraar vrouwenstudies medische wetenschappen; dr. W.J.C. de Grauw, huisarts, senior onderzoeker; dr. T.R.J. Schermer, senior onderzoeker.
Mogelijke belangenverstrengeling: niets aangegeven.
Dit onderzoek werd eerder gepubliceerd als: Luijks H, Biermans M, Bor H, van Weel C, Lagro-Janssen T, de Grauw W, Schermer T. The effect of comorbidity on glycemic control and systolic blood pressure in type 2 diabetes: A cohort study with 5 year follow-up in primary care. PLoS One 2015;10:e0138662. Publicatie gebeurt met toestemming.
Samenvatting
Luijks HD, Biermans MC, Bor H, Van Weel C, Lagro-Janssen T, De Grauw WJ, Schermer TR. Comorbiditeit, glykemische controle en systolische bloeddruk: Een cohortonderzoek bij diabetespatiënten. Huisarts Wet 2016;59(9):382-7.
Doel
Verkennen van het effect van comorbiditeit op de glykemische controle (HbA1c) en de systolische bloeddruk bij patiënten met diabetes mellitus type 2.
Methode
Uit de gegevens van de Continue Morbiditeits Registratie includeerden we 610 diabetespatiënten met verschillende typen comorbiditeit, bij wie we de ontwikkeling van HbA1c- en systolische bloeddrukwaarden nagingen tot vijf jaar na de diagnose diabetes. In een
mixed model
met correctie voor covariaten analyseerden we de invloed van het totaal aantal comorbide aandoeningen per patiënt en het effect van specifieke ziekten, zoals hart- en vaatziekten en aandoeningen van het bewegingsapparaat.
Resultaten
Het aantal comorbide aandoeningen was significant geassocieerd met de ontwikkeling van de systolische bloeddruk: patiënten zonder comorbiditeit hadden vijf jaar na diagnose de hoogste waarden (p = 0,005). Het aantal aandoeningen had geen invloed op het HbA1c (p = 0,075). Cardiovasculaire aandoeningen waren geassocieerd met een hogere systolische bloeddruk (p = 0,014), aandoeningen van het bewegingsapparaat met duidelijk oplopende HbA1c-waarden (p = 0,044). Bij sommige vormen van comorbiditeit werd het effect beïnvloed door de sociaal-economische status.
Conclusie
De aanwezigheid van comorbiditeit beïnvloedt de ontwikkeling van de glykemische controle en de systolische bloeddruk bij diabetespatiënten. Bepaalde comorbide aandoeningen hebben een negatieve invloed. De complexe interacties tussen comorbiditeit, diabetes en effectmodificatoren moeten verder onderzocht worden om te kunnen komen tot patiëntgerichte zorg met gepersonaliseerde behandeldoelen.