01-07-2009 | Uitgave 5/2009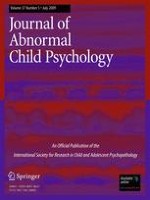 Community vs. Clinic-Based Modular Treatment of Children with Early-Onset ODD or CD: A Clinical Trial with 3-Year Follow-Up
Tijdschrift:
Auteurs:

David J. Kolko, Lorah D. Dorn, Oscar G. Bukstein, Dustin Pardini, Elizabeth A. Holden, Jonathan Hart
Belangrijke opmerkingen
This study was supported by grants to the first author from the National Institute of Mental Health (MH 57727) and to the second author by the National Institute of Nursing Research (NR 07615). The fourth author was supported by grant K01 MH078039 from the National Institute of Mental Health. The authors acknowledge the research and clinical staff of the Resources to Enhance the Adjustment of Children (
REACH
) program, and Drs. David Brent, Tammy Chung, William Gardner, John Lochman, and Wayne Osgood. Reprints may be obtained from Dr. Kolko, WPIC, 3811 O'Hara St., Pittsburgh, PA 15213.
Abstract
This study examines the treatment outcomes of 139, 6–11 year-old, clinically referred boys and girls diagnosed with Oppositional Defiant Disorder (ODD) or Conduct Disorder (CD) who were randomly assigned to a modular-based treatment protocol that was applied by research study clinicians either in the community (COMM) or a clinic office (CLINIC). To examine normative comparisons, a matched sample of 69 healthy control children was included. Multiple informants completed diagnostic interviews and self-reports at six assessment timepoints (pretreatment to 3-year follow-up) to evaluate changes in the child's behavioral and emotional problems, psychopathic features, functional impairment, diagnostic status, and service involvement. Using HLM and logistic regression models, COMM and CLINIC showed significant and comparable improvements on all outcomes. By 3-year follow-up, 36% of COMM and 47% of CLINIC patients no longer met criteria for either ODD or CD, and 48% and 57% of the children in these two respective conditions had levels of parent-rated externalizing behavior problems in the normal range. We discuss the nature and implications of these novel findings regarding the role of treatment context or setting for the treatment and long-term outcome of behavior disorders.