05-03-2019 | Original Article | Uitgave 5/2019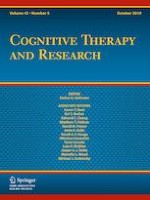 Cognitive Moderation of CBT: Disorder-Specific or Transdiagnostic Predictors of Treatment Response
Tijdschrift:
Auteurs:

Danielle E. Katz, Judith M. Laposa, Lance L. Hawley, Leanne Quigley, Neil A. Rector
Belangrijke opmerkingen
Publisher's Note
Springer Nature remains neutral with regard to jurisdictional claims in published maps and institutional affiliations.
Abstract
Cognitive vulnerability research has focused on cognitive variables that are hypothesized to confer risk to specific disorders within the mood and anxiety spectrum, while transdiagnostic research has emphasized common risk factors across disorders. The purpose of the present study was to test specific versus common cognitive predictors of treatment response across three treatment groups. Participants (N = 373) with major depressive disorder (MDD; N = 187, panic disorder with/without agoraphobia (PD/A; N = 85), and obsessive compulsive disorder (OCD; N = 101) completed measures of cognitive vulnerability (performance-oriented dysfunctional attitudes, anxiety sensitivity, and obsessive beliefs) and disorder-specific symptom measures at pre- and post CBT treatment. Based on latent difference score analysis, pre-treatment performance-oriented dysfunctional attitudes alone predicted improvement in depressive symptoms in the MDD group; pre-treatment anxiety sensitivity alone predicted reductions in anxious arousal symptoms in the PD/A group; and pre-treatment obsessive beliefs alone predicted change in OCD symptoms in the OCD group. These findings provide support for disorder-specific cognitive factors in the prediction of CBT treatment outcomes and provide guidance towards ways in which current CBT approaches may benefit from augmentation or adjustment.