01-03-2013 | Original Article | Uitgave 2/2013 Open Access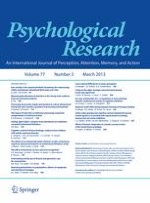 Cognitive control of feature bindings: evidence from children with autistic spectrum disorder
Tijdschrift:
Auteurs:

Sharon Zmigrod, Leo M. J. de Sonneville, Lorenza S. Colzato, Hanna Swaab, Bernhard Hommel
Introduction
Method
Participants
The participants in this study included 40 children of age between 11 and 18 years : 20 children (13 males) with autism spectrum disorder (ASD) (age 11–18, mean 15, SD 2.02), and 20 (14 males) typically developing children (the control group; age 11–18, mean 15, SD 2.01).
The children with ASD were selected from consecutive referrals to the outpatient and inpatient Department of Child and Adolescent Psychiatry at the University Medical Centre of Utrecht, the Netherlands. In order to qualify for the current study, the ASD participants had to meet the following three criteria: First, a diagnosis of ASD was required. Two certified experienced child psychiatrists diagnosed these participants and needed to reach a consensus on diagnosis. They used DSM-IV criteria for autistic disorder (Diagnostic and Statistical Manual of Mental Disorder, Fourth Edition; American Psychiatric Association,
1994
) to evaluate the developmental history of the child as well as current social, emotional, and adaptive functioning. Furthermore, medical records and structured questionnaires completed by the child's parents and teacher(s) were included in the diagnostic process (Child Behavior Checklist: CBCL; and Teacher's Report Form: TRF; Achenbach & Edelbrock,
1986
). Both child psychiatrists observed and interviewed the child in a semi-structured playroom session according to a DSM checklist made available for the Dutch situation. Second, Full-Scale IQs (FSIQ) were required to be 70 or above (Mean IQ 101; SD 9.71), as measured with the Dutch adaptation of the Wechsler Intelligence Scale for Children (Wechsler,
1997
). Third, all participants were to have normal or corrected-to-normal vision.
In the healthy controls we included children with the same age range and IQ (there was no significant difference IQ between the groups as measured by
t
-test,
t
(38) = 2.011;
p
= .051), but without any known neurological or developmental disorders. Their IQ was above 70 (Mean IQ 107; SD 8.81) as measured by the Dutch adaptation of the Wechsler Intelligence Scale for Children (Wechsler,
1997
), with normal or corrected-to-normal vision.
Finally, the study was conducted in accordance with the declaration of Helsinki and guidelines of the local ethics committee. All parents signed a written consent before participating in the study.
Procedure and design
The event file task measures binding-related effects, which can be quantified by calculating partial-repetition costs related to combinations of stimulus features (shape and color in our case) and combinations of stimulus features and the response.
1
One of the perceptual features was task-relevant feature (shape) and the other (color) was the irrelevant feature for the task. To manipulate the repetition versus alternation of stimulus features and responses, the task comprises of pairs of trials with a prime trial (S1 → R1) followed by a probe trial (S2 → R2), see Fig.
1
. The probe trial required a manual binary-choice response (R2) to the shape of the second stimulus S2 (an apple or a banana). The prime trial required a manual response (R1) to the mere onset of the first stimulus (S1). The correct R1 was signaled in advance of S1 (through a left- or right-pointing arrowhead), so that S1 and R1 could be varied independently, which was necessary to create orthogonal repetitions and alternations of stimulus shape and response. As an additional stimulus feature, color was also varied by presenting the apple or banana in green or yellow (see Colzato, van Wouwe, et al.,
2006
). Stimulus color could repeat or alternate independently of stimulus shape and responses, thus creating a 2 × 2 × 2-factorial design.
×
Each trial consisted of a prime-probe pair. The experiment was composed of a practice block with ten practice trials, which were not further analyzed, and an experimental block with 196 experimental trials. The order of the trials was randomized but all eight conditions appeared equally often. Half of the participants responded to the apple and the banana by pressing on the left and right key press, respectively, while the other half received the opposite mapping. The participants were asked to respond as quickly and accurately as possible.
Results
Trials with incorrect R1 responses (0.75%), as well as missing (RT > 1,500 ms) or anticipatory (RT < 100 ms) R2 responses (0.02%) were excluded from analysis. From the remaining data, mean reaction time (RTs) and percentage of errors (PEs) for R2 (see Table
1
) were analyzed as a function of the four variables: the relationship between S1 and S2 (repetition vs. alternation) with regard to shape and to color, and the relationship between responses R1 and R2 (repetition vs. alternation), which all varied within participants, and group (ASD vs. control). Mixed-design ANOVAs were performed with repeated measures on three variables and with group as between-participant variable.
Table 1
Means of mean reaction times for responses to stimulus 2 (RTR2 in ms) and SE in parenthesis, as a function of group (ASD children vs. control—typically developing children), the relationship between the responses (R1 and R2), and the relationship between the stimuli features (S1 and S2) for shape and color
Group

Response repeated

Response alternated

Partial repetition costs

Shape repeated

Shape alternated

Shape repeated

Shape alternated

RTs (ms)

ASD

518 (20)

649 (24)

591 (24)

549 (24)

86

Control

576 (20)

635 (24)

616 (24)

568 (24)

53

Errors (%)

ASD

5.7 (0.8)

18.1 (1.9)

14.5 (1.6)

4.5 (0.8)

11.2

Control

1.3 (0.8)

6.1 (1.9)

9.6 (1.6)

1.6 (0.8)

6.4
Group

Response repeated

Response alternated

Partial repetition costs

Color repeated

Color alternated

Color repeated

Color alternated

RTs (ms)

ASD

580 (22)

587 (21)

575 (24)

566 (23)

8

Control

600 (22)

611 (21)

592 (24)

592 (23)

5

Errors (%)

ASD

11.4 (1.3)

12.4 (1.4)

10.2 (1.2)

8.7 (1.2)

1.2

Control

3.6 (1.3)

3.8 (1.4)

7.3 (1.2)

4.0 (1.2)

1.8
ASD patients tended to be faster than control participants (RTs: 576 vs. 611 ms),
F
(1,38) = .852,
p
= .362, but were less accurate (PEs: 9.57 vs. 4.3%),
F
(1,38) = 14.42,
p
< .001, suggesting a somewhat different speed-accuracy strategy. There was a significant main effect of shape repetition in RTs,
F
(1,38) = 13.54,
p
< .001, due to faster responses to repeated (581 ms) than alternated shapes (605 ms). This effect was modified by group,
F
(1,38) = 5.20,
p
< .05; separate ANOVAs, split by group, revealed that it was statistically significant only in the ASD group,
F
(1,19) = 13.207,
p
< .005, where responses were slower to shape alternation (596 ms) than to shape repetition (556 ms), indicating slower adaptation to alternations. These results are in line with studies showing that ASD children demonstrate deficits in adaptive skills (e.g., Kanne et al.,
2011
; Paul et al.,
2004
) and repetitive behaviors (South, Ozonoff, & Mcmahon,
2007
).
There were significant interactions between shape repetition and response repetition in RTs,
F
(1,38) = 113.77,
p
< .0001; and PEs,
F
(1,38) = 61.08,
p
< .0001. These findings followed the common pattern with worse performance if only one of the features (shape or response) is repeated while the other is not, as compared with complete repetitions or alternations (see Hommel,
1998
). In addition, there was a significant interaction between color, the irrelevant feature, and the response in PEs,
F
(1,38) = 9.87,
p
< .005, showing that the response was more accurate for total repetition or total alternation of the response and the color than partial repetition (see Table
1
).
More importantly for our study, the response–shape interaction was further modified by group in both RTs,
F
(1,38) = 4.478,
p
< .05; and PEs,
F
(1,38) = 6.82,
p
< .05 (see Fig.
2
). This was due to more pronounced interactions in children with ASD than in typically developing children. In contrast, group was not involved in either the three-way interactions with shape and color or with color and response, all
Fs
(1,38) < 1, or the four-way interaction,
F
(1,38) = 0.51,
p
= .48, and
F
(1,38) = 2.65,
p
= .11, for RTs and PEs, respectively, indicating that the impact of group is restricted to effects of features from relevant dimensions.
×
To further analyze the response–shape interaction, we calculated partial repetition costs (see footnote 1) for RTs and PEs and ran an ANOVA with group type. There were reliable effects of group in RTs: F(1,38) = 4.47
p
< .05, and PEs: F(1,38) = 6.83,
p
< .05, indicating higher costs associated with shape–response integration for ASD than the control group (see Fig.
3
).
×
As the experiment was relatively long, participants could develop particular strategies to deal with the task, especially with its relevant aspects (i.e., shape and response features) which might have changed the respective effects over time. To test this possibility and to see whether it might have emerged in the two groups differently, we split the data into a first and second half, calculated (response-shape) partial repetition costs for the two practice levels for each group in RTs and PEs, and ran an ANOVA with practice level and group type as factors. However, there were no significant main effects of practice level in RTs and PEs (Fs < 1) or interactions between group and practice level (Fs < 1). This does not provide evidence that all or some of the participants developed particular strategies to deal with the task over time, at least not in a systematic fashion.
Discussion
Open Access
This article is distributed under the terms of the Creative Commons Attribution Noncommercial License which permits any noncommercial use, distribution, and reproduction in any medium, provided the original author(s) and source are credited.
Footnotes
1
Partial
-
repetition costs
for a given interaction between factors X and Y were calculated as the difference between the RTs/PEs for partial repetitions (feature X repeated and feature Y alternated, or vice versa) and the RTs/PEs for complete repetitions and "complete" alternations. E.g., the partial repetition costs in RTs for the shape X response interaction at a given group would be PRCshapeXresponse = (RT shape repeated/response alternated + RT shape alternated/response repeated)/2 − (RT shape repeated/response repeated + RT shape alternated/response alternated)/2. Partial repetition costs thus correspond to the 2-way interaction term of the respective features (and are thus immune to possible, but theoretically less relevant, main effects of feature repetition); a value close to zero means that the repetition effects of the two given features do not interact; a value greater than zero indicates a "binding-type" interaction of the sort described in the text.